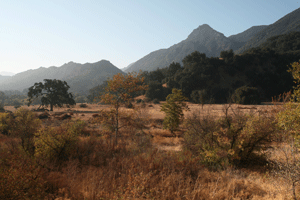 Site Info and Map
Malibu Creek State Park Guide and Campground Map (PDF - 306 KB)

Fee may be collected for entry.
Fee required for camping.
Directions
1925 Las Virgenes Rd, Calabasas, CA 91302
Main Entrance: Ventura Fwy (101) Exit Las Virgenes Rd. Go 3 miles south on Las Virgenes Rd to Mulholland Hwy intersection (traffic light). Park entrance is 0.25 mile south of the intersection on Las Virgenes Rd. From Pacific Coast Hwy: north on Malibu Canyon Rd to park entrance on left.
Tapia Unit: Entrance is 1 mile south of entrance to Malibu Creek State Park.
Reagan Ranch: Ventura Fwy (101) to Kanan Rd exit. South on Kanan 0.5 mile. Left on Cornell Way and veer to right. South 3 miles to parking area on left (just past Mulholland Hwy).
Backbone Trailhead-Malibu Canyon Road: Ventura Fwy (101) Exit Las Virgenes Rd. Go south 5 miles to parking lot on right.