Map and Site Information: Malibu Creek State Park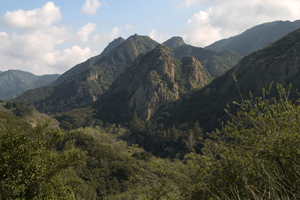 Malibu Creek runs through the middle of the park, granting hikers 15 miles of streamside trails within the 37 miles in the 8000 total acreage. Tree types include Oak Savannah, Sycamores, and Redwoods. Wildflowers are most abundant in the northwest area of the park. Patient travelers might be lucky enough to catch a glimpse of a mountain lion, hummingbirds, or salamanders. The park is a famous filming spot seen in M*A*S*H, Planet of the Apes, and over 100 other Hollywood productions.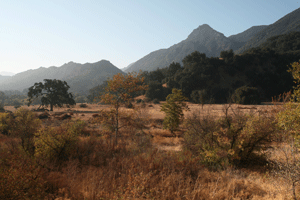 Site Info and Map
Malibu Creek State Park Guide and Campground Map (PDF - 306 KB)

Fee may be collected for entry.
Fee required for camping.
Directions
1925 Las Virgenes Rd, Calabasas, CA 91302
Main Entrance: Ventura Fwy (101) Exit Las Virgenes Rd. Go 3 miles south on Las Virgenes Rd to Mulholland Hwy intersection (traffic light). Park entrance is 0.25 mile south of the intersection on Las Virgenes Rd. From Pacific Coast Hwy: north on Malibu Canyon Rd to park entrance on left.
Tapia Unit: Entrance is 1 mile south of entrance to Malibu Creek State Park.
Reagan Ranch: Ventura Fwy (101) to Kanan Rd exit. South on Kanan 0.5 mile. Left on Cornell Way and veer to right. South 3 miles to parking area on left (just past Mulholland Hwy).
Backbone Trailhead-Malibu Canyon Road: Ventura Fwy (101) Exit Las Virgenes Rd. Go south 5 miles to parking lot on right.
Did You Know?

Piece by piece, a trail is forging its way along the "backbone" of the recreation area. California State Parks took the first step toward a 65-mile Backbone Trail in 1978. With 5 miles left to go, single track trails and fireroads will unite this patchwork of public parklands from east to west.