Fire Restrictions in effect for Saguaro National Park

Due to increased fire danger in southern Arizona, Saguaro National Park will implement fire restrictions in both the Rincon and Tucson Mountain Districts, beginning Wednesday, May 22, 2013. More »
Bottled water no longer for sale in Saguaro National Park

Water bottle filling stations have been installed at both visitor centers and the Rincon Mountain District bike ramada for visitors to refill their reusable water bottles. A variety of BPA-free waterbottles are available inside the visitor centers. More »
Tucson Mountain District (west) road re-opened

The Golden Gate Road has been re-opened north of Sendero-Esperanza and is is now rated for high clearance vehicles due to the rough nature of the terrain. More »
Frequently Asked Questions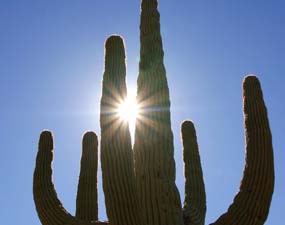 John Williams, Park Ranger
Q. How do you pronounce saguaro?
A. Sa - WAH - ro
Q. How do saguaros grow?
A. Saguaros are a very slow growing cactus. In Saguaro National Park, studies indicate that a saguaro grows between 1 and 1.5 inches in the first eight years of its life. more
Q. Can I make a reservation for one of your picnic areas?
A. No, reservations are not taken for picnic areas in Saguaro National Park. They are first come, first served.
Q. What uses require a special use permit?
A. 1. Weddings
2. Picnicking in groups of 20 or more persons
3. Religious Retreats
4. Dispersal of human remains
A special use permit must be filled out and submitted to the park in advance of the actual date requested. There is a permit processing fee of $50 (minimum) for all recreational special use permits.


Did You Know?

Even though the Sonoran Desert is known as very hot and dry place, snow sometimes falls and accumulates on the desert floor of Saguaro National Park.  When it does it turns the desert into a winter wonderland. More...