Rincon Mountain District Backcountry Closures Due to Deer Head Fire

For the safety of hikers and campers, some trail and campground closures have been enacted. All off-trail areas within Saguaro National Park east of Douglas Spring Trail and Manning Camp Trails are also closed. More »
Frequently Asked Questions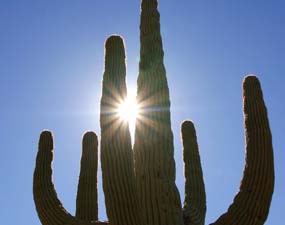 John Williams, Park Ranger
Q. How do you pronounce saguaro?
A. Sa - WAH - ro
Q. How do saguaros grow?
A. Saguaros are a very slow growing cactus. In Saguaro National Park, studies indicate that a saguaro grows between 1 and 1.5 inches in the first eight years of its life. more
Q. Can I make a reservation for one of your picnic areas?
A. No, reservations are not taken for picnic areas in Saguaro National Park. They are first come, first served.
Q. What uses require a special use permit?
A. 1. Weddings
2. Picnicking in groups of 20 or more persons
3. Religious Retreats
4. Dispersal of human remains
A special use permit must be filled out and submitted to the park in advance of the actual date requested. There is a permit processing fee of $50 (minimum) for all recreational special use permits.


Did You Know?

"Don't call ME pig!" Javelinas are able to eat spiny prickly pear pads with no obvious harm to their mouths, stomachs or intestinal tracts due to an enzyme in their saliva. Javelinas are not true pigs, they are peccaries, which are native to the Americas. True pigs are native to Europe and Asia. Wild pigs and boars are descended from true pigs brought over on boats to the new world.