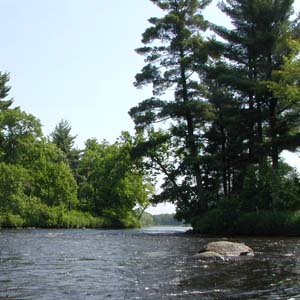 NPS
Wild River
Distance: 8.0 Miles
Duration: 3-5 Hours (+/- depending on paddling pace and river conditions)
Difficulty: Moderate - Stretches of Class II rapids
Location: The St. Croix Marshlands - Near Grantsburg, WI [Map 6][Interactive Map 6]
A very distinctive stretch of the St. Croix, the River splits in two around several large islands near the confluence with the Kettle River as it runs through dense, wild forests. With Class I and II rapids in both the main channel and the Kettle River Slough (the channel on river right after the launch at Nelsons Landing) this is an exciting paddle. Where the slough and the main channel re-converge there is a longer-stretch of step-rapids along a rock shelf. On a whole the river is much wider in this area than on the Namekagon or Upper St. Croix and moves a bit more quickly, but still provides scenic seclusion with fantastic views from the water.
River-Level Considerations: The main channel is generally floatable throughout the season however, the Kettle River slough is very sensitive to rainfall. In low water, the slough is practically unnavigable, requiring a lot of walking, while in high water, the rapids can be quite a bit tougher with some rolling portions of white-water. Be sure to consult the River Levels page for up-to-date information.
Along the way:
Main Channel:
6 campsites (2 are group sites)
1 walk-in group site with picnic tables at Nelson's Landing
1 River Landing- Fox
Kettle River Slough:
8 campsites (4 are group sites)
2 walk-in group site at Nelson's Landing and Head of the Rapids Landing
1 River Landing - Head of the Rapids
Potable Water at Head of the Rapids Landing
Multi-day Extension: This paddle can be extended up and down the river. Sandrock Cliffs, several miles below Soderbeck landing, is especially noteworthy because the riverbanks change dramatically to tower above the water. The area above Norway point, which is up river from Nelson's landing, is much slower-paced water.
Return to Ranger Recommended Paddles