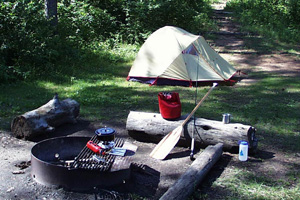 NPS
To provide for the public enjoyment of the Riverway, designated primitive campsites have been established throughout the National Park above the Soo Line High Bridge. Camping is allowed only in officially designated sites and there is a three-night limit on visitor use. All sites are marked with a campsite sign and have a firering. Some have a picnic table and primitive toilets. Most are accessible only by boat or canoe. Drinking water is only available during the summer at some landings. Wells are generally closed late September and reopened in late May. Beginning in 2013, water will no longer be available at McDowell Bridge Landing, Riverside Landing, and the Marshland District Office on Highway 70. Please plan accordingly and bring an adequate supply of water. Section maps identify water-well and campsite locations as well as denoting campsite size.
Campsites are available in two sizes:
Individual Campsites can accommodate 8 people and 3 tents
Group Campsites can accommodate 16 people and 6 tents (Group sites should only be used by camping parties that are too large for individual sites)
Please note that over holidays and weekends with ideal weather, desired use may exceed available resources. Do not plan to canoe so late in the day that if your first campsite choice is occupied, that you have no other options.
A free permit is required for camping below Highway 8. From the Soo Line High Bridge to Stillwater, there are no designated campsites, but overnight camping is only allowed on the islands. The Park has specifec regulations for four camping zones, so please check these as you plan your trip. However, the basics of camping in the park are as follows...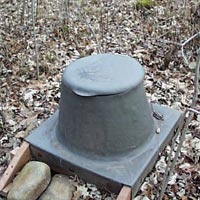 NPS
An Important Message About Toilets
All designated campsites above Highway 8, have a primitive toilet (left). These toilets are secluded from the camping area, a short distance away at the end of a marked trail. Most landings have enclosed outhouse facilities. If a toilet is not available when you stop along the river, bury your waste at least 100 feet from water and trails.remember to bring your own toilet paper. Toilet paper and feminine hygiene products should be packed out in a plastic bag.
Below Highway 8, toilets are only provided at Eagle's Nest Campground (s48.5). Elsewhere portable toilets must be packed in and out and used. Commercial models exist that can be carried by boat, canoe, or kayak.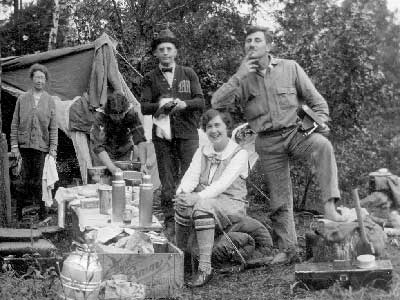 NPS Photo Collection
Tips for Camping along the St. Croix National Scenic Riverway
Camp Lightly: As demand for recreation continues to increase, pressure on natural areas such as the St. Croix Riverway has become more intense. Visitors practicing low impact camping techniques are very important to preserving the natural character of the Riverway. The Park is pack-in,pack-out. Packing lightly will benefit you as you need to take all of your garbage with you when you leave.
Plan Ahead:

Consult maps before you visit the Riverway.
Persons seeking solitude should consider coming on weekdays and avoid the most popular stretches of the river.
Plan meals carefully to reduce waste. Repackage food to minimize the amount of containers and trash. Carry out your trash with you. Do not dispose of trash in fire rings or toilets.
Glass containers are prohibited at river landings.
Water is available seasonally, when there is no threat of freezing, at some landings. Consult maps for location and contact the park to determine when water facilities are operational spring and fall

Store food properly:

Raccoons, bears, and other animals are attracted to the smell of human food. Hang food and scented toiletries in a tree at least 10 feet off the ground and 4 feet from the tree trunk. Hang your garbage as well.
At walk-in campsites store food coolers in your vehicle overnight.
Do not wash your dishes in the river. Strain wastewater from dishwashing for food scraps. Scatter the water away from your campsite and the river.

Fires:

On the Namekagon and the St. Croix, from Gordon Dam to Soo Line High Bridge, fires are only permitted in steel fire-rings. Below Soo Line High Bridge fires may be built outside steel fire-rings if it can be done safely.
Dead and down wood may be collected for use by picnickers and campers. Live trees may not be cut.
Firewood may not be gathered on any island in the river. Fallen trees help stabilize islands.
The preferred practice is to bring firewood with you from a source no more than 25 miles from the Riverway.
Remember to leave a clean, litter free, undamaged campsite so the next visitor will have a pleasant experience. The Camping Brochure provides similar information.
Camping Zones
The Riverway is divided into four federal camping zones where management policies differ. The Namekagon River and St. Croix River from Gordon Dam to Nevers Dam, Nevers Dam to Highway 8, Highway 8 to Soo Line High Bridge and Soo Line High Bridge to Stillwater. The state zone, from Stillwater to the mouth of the river, has no designated campsites outside of county and state parks.
The entire Namekagon and St. Croix River north of Nevers Dam requires camping only at designated sites, with a three-night limit at each campsite. While campsites are located at fairly regular intervals along most parts of both rivers, there are few campsites on the St. Croix between Riverside Landing and Norway Landing, due to extensive swamps. If your trip will include an overnight stay along this stretch, it would be wise to make arrangements to camp at St. Croix State Park by calling 320-384-6591 or http://www.dnr.state.mn.us/state_parks/reservations.html
Between Nevers Dam and Highway 8 designated campsites have a three-night limit. Houseboaters are allowed to tie-up to shore anywhere on the flowage behind the dam at St. Croix Falls for an overnight stay. Houseboats or other self-contained vessels may tie up for night anchorage anywhere along the shoreline except at designated campsites and on private property. Passengers on self contained vessels must use on-board toilet facilities and may not build campfires or erect tents on the shore.
Highway 8 to Soo Line High Bridge has designated camp sites and a three night limit. Toilets are only provided at Eagle's Nest Campground,elsewhere portable toilets must be packed in and out and used. A free camping permit is required. For more information...
Soo Line High Bridge to Stillwater has few designated campsites. Camping is only allowed on islands in this zone. There is a seven-night limit at any site along this stretch of the river.

Camping options don't seem to work: If you are a group of more than 16 people or if you want to enjoy riverside camping without paddling, please call the St. Croix River Visitor Center at (715) 483-2274 or view the list of developed campsites below.
Developed Campgrounds
Located in state or private areas, these campgrounds provide tent and car camping. Many of these large camping areas include such amenities as showers, dump stations, electricity, modern restrooms and more. Fees are charged at developed campgrounds and reservations are required for state parks and most private campgrounds. State forest campgrounds are first come, first served.
Minnesota Information:
DNR Information Center
651-296-6157 or www.dnr.state.mn.us
Office of Tourism
651-296-5029 or www.exploreminnesota.com
Wisconsin Information:
State Park Camping
888-947-2757 or www.dnr.state.wi.us

Department of Tourism
800-432-8747 or www.travelwisconsin.com
State Campgrounds near the Riverway
Minnesota: Afton State Park, Chengwatana State Forest, Minnesota Interstate State Park, St. Croix State Forest, St. Croix State Park, Wild River State Park, William O'Brien State Park
Wisconsin: Governor Knowles State Forest, Willow River State Park, Wisconsin Interstate State Park