St. Croix River Visitor Center Closed

The St. Croix River Visitor Center is closed for the season. It will reopen in the spring of 2014 More »
Operating Hours & Seasons
Discover the unique ways that you can explore the St. Croix National Scenic Riverway by stopping at a National Park Service visitor center.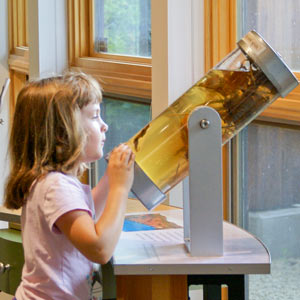 NPS
St. Croix River Visitor Center, 401 North Hamilton Street in St. Croix Falls, Wisconsin. From approximately mid-April to October 27, open daily 9:00 a.m. to 5:00 p.m. The Visitor Center will be closed from October 28, 2013 until spring 2014. A specific date will be posted when available. Call 715) 483-2274 for more information.

The St. Croix River Visitor Center has a 500-gallon freshwater aquarium and a large scale aerial photo of the Riverway mounted on the floor. The photo shows the river from north of Grantsburg to its confluence with the Mississippi.
Namekagon River Visitor Center, on Highway 63, one mile east of Highway 53 in Trego, Wisconsin. From Memorial Day Weekend through Labor Day, open 9:00 a.m. to 5:00 p.m. daily. (715) 635-8346.

The Namekagon Visitor Center has a large model of a sturgeon, for which the river is named and a birch bark canoe. The exhibits include both human and natural history and their interrelationship over hundreds of years.
Both visitor centers feature exhibits and the 18-minute film, The St. Croix: A Northwoods Journey. National Park Service rangers are available to help you plan a river trip, direct you to maps and educational materials, and answer your questions about the Riverway and your national parks.
During the winter closure of the park visitor centers the Eastern National Passport Stamp can be found at the Polk County Tourism Center. The center is located at the intersection of Highway 8 and 35 in St. Croix Falls, WI. Hours are M-F 9-5, Sat 9-2 and closed Sunday. Phone is: 715-483-1410.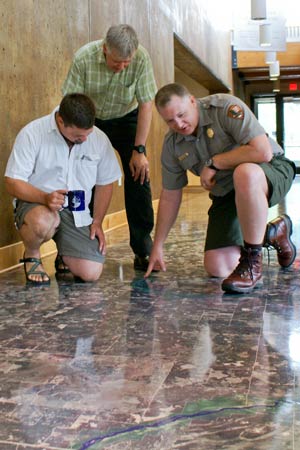 NPS
Admission to visitor centers is free.
There is one Riverway stamp for the "Passport to Your National Parks" program and it is available at the visitor centers during regular hours.
Park headquarters is located in St. Croix Falls, Wisconsin. It is the Riverway's business office and is open 9:00 a.m. to 4:00 p.m., Monday through Friday, and closed on federal holidays.
The Riverway features approximately 60 river landings and 150 shoreline campsites. These are open year round. Campsites are available first-come, first served and are free of charge. Outfitters are available that rent watercraft and provide other services. Some landings and campsites have water available on a seasonal basis. Wells are normally open late May through September and are closed the rest of the year.


Did You Know?

Winged maple leaf mussels were thought to be extinct until some were rediscovered in the St. Croix River in 1987. Today scientists are helping to raise young mussels and re-introducing them into their former range including St. Croix National Scenic Riverway to help prevent future extinction.