Ranger-led Programs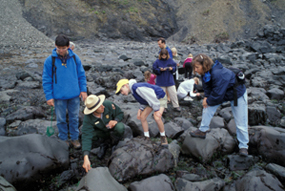 NPS Collection
Be part of a national and state parks tradition! Park rangers and other staff lead a variety of seasonally available programs and activities throughout the parks that are free, informative, and fun for all ages and backgrounds.
Programs & Activities Schedule
Programs and activities are available from mid-May to mid-September. Inquire at information centers or campground bulletin board for times, topics, and locations.
Visit our Schedule of Events page to access a calendar of all ranger-led interpretive programs (and other events, too!). You can also download, view, and/or print this week's ranger-led program schedule here:
No ranger-led programs scheduled at this time. Programs will resume in May 2013-please check this page then for schedules!
Junior Ranger Programs (1 hour)
Children ages 7-12 have fun while learning about the people, plants, animals, and life systems of the redwood region. Allow one hour for scheduled programs at the Jedediah Smith Campground, Mill Creek Campground, or Prairie Creek Visitor Center; self-paced junior ranger activities are available at all information centers.
Tidepool Walks (2 hours, as tides permit)
Get your hands (and feet!) wet while discovering delicate tidepool creatures. A park ranger-naturalist leads this investigation into the hidden world beneath the waves. Come prepared: dress for the weather; bring drinking water and a snack; wear sturdy hiking shoes or boots (no sandals!) with non-slip soles-they will get wet!
Campfire Programs (1 hour)
As darkness descends on the North Coast, the Jedediah Smith, Mill Creek, and Elk Prairie campgrounds are ideal settings for an informative and inspiring night cap. Programs may include narrated slide shows, storytelling, music, and/or games. Campfire circles and outdoor amphitheaters are wheelchair accessible. Dress for cool summer evenings.
Nature Walks (1-2 hours)
Immerse yourself in the forest, shore, or prairielands. Join a park ranger-naturalist for a down-to-earth exploration of the natural communities that contribute to one of the most diverse ecosystems on Earth. Come prepared: dress for the weather; bring drinking water and a snack; wear sturdy hiking shoes or boots with non-slip soles.
Did You Know?

You can travel by car to Gold Bluffs Beach to hike along a meandering stream through a hidden canyon with 30-foot walls covered by several species of ferns. Follow steps up to James Irvine Trail to a prairie that was once a small mining town above Fern Canyon.