Newton B. Drury Scenic Parkway is CLOSED due to hazardous road conditions.

Inclement weather often creates unsafe road conditions. Currently, there is a "glaze" of transparent ice on sections of the road. The Parkway will reopen as soon as State law enforcement officers deem it safe to travel upon.
Most campgrounds remain OPEN. Sites are available on first-come, first-served basis.

Jed Smith, Elk Prairie, Gold Bluffs Beach campgrounds are OPEN. All sites are available on first-come, first-served basis. Mill Creek Campground is CLOSED and will reopen May 16, 2014. More »
Gravel Access Road CLOSED.

Gravel access road to the Tall Trees trailhead is closed until further notice. Tall Trees Trail and Grove are still open. The easiest way to access this area is by hiking the Redwood Creek Trail, which is 8 miles one way.
Ranger-led Programs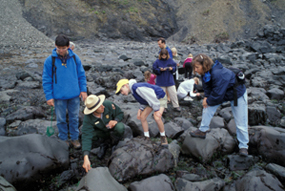 NPS Collection
Be part of a national and state parks tradition! Park rangers and other staff lead a variety of seasonally available programs and activities throughout the parks that are free, informative, and fun for all ages and backgrounds.
Programs & Activities Schedule
Programs and activities are available from mid-May to mid-September. Inquire at information centers or campground bulletin board for times, topics, and locations.
Visit our Schedule of Events page to access a calendar of all ranger-led interpretive programs (and other events, too!). You can also download, view, and/or print this week's ranger-led program schedule here:
No ranger-led programs scheduled at this time. Programs will resume in May 2013-please check this page then for schedules!
Junior Ranger Programs (1 hour)
Children ages 7-12 have fun while learning about the people, plants, animals, and life systems of the redwood region. Allow one hour for scheduled programs at the Jedediah Smith Campground, Mill Creek Campground, or Prairie Creek Visitor Center; self-paced junior ranger activities are available at all information centers.
Tidepool Walks (2 hours, as tides permit)
Get your hands (and feet!) wet while discovering delicate tidepool creatures. A park ranger-naturalist leads this investigation into the hidden world beneath the waves. Come prepared: dress for the weather; bring drinking water and a snack; wear sturdy hiking shoes or boots (no sandals!) with non-slip soles-they will get wet!
Campfire Programs (1 hour)
As darkness descends on the North Coast, the Jedediah Smith, Mill Creek, and Elk Prairie campgrounds are ideal settings for an informative and inspiring night cap. Programs may include narrated slide shows, storytelling, music, and/or games. Campfire circles and outdoor amphitheaters are wheelchair accessible. Dress for cool summer evenings.
Nature Walks (1-2 hours)
Immerse yourself in the forest, shore, or prairielands. Join a park ranger-naturalist for a down-to-earth exploration of the natural communities that contribute to one of the most diverse ecosystems on Earth. Come prepared: dress for the weather; bring drinking water and a snack; wear sturdy hiking shoes or boots with non-slip soles.
Did You Know?

The famous drive-through giant sequoia in the Mariposa Grove of Yosemite National Park fell in 1969 under heavy snow. Today there are three coast redwood drive-through trees along Highway 101 in northern California. All are on private property and charge admission.