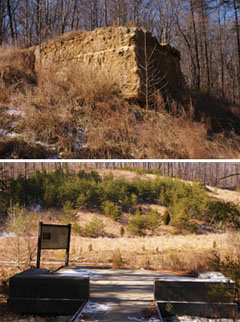 National Park Service
After passing the foundations, cross over a small bridge on the left towards the Old Cabin Branch Pyrite Mine viewing platform. About five minutes down the trail, you can look across the creek to see the open hill side where the mine use to operate. One foundation still remains on the hillside.
During the mine's operation, more than 200,000 long tons of pyrite was brought to the surface and processed into sulfuric acid and used in making soap, fertilizer, and gunpowder.