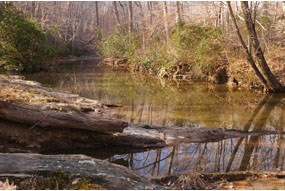 0.7 miles, 1.1 kilometers
The Quantico Cascades Trail is a short, easy hike down to Quantico Creek marked with yellow blazes. The trail head is located at Parking Lot E and there are side-trail options with Lake One Road and North Valley Trail.

Throughout your hike, you will travel through the open forest. There are many opportunities to see downed logs and snags which provide habitat to many of the park's wild inhabitants.