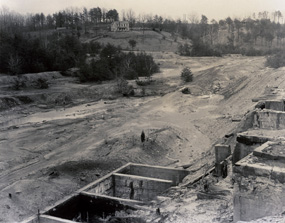 National Park Service
The Mine's Beginnings
The Civil War hit the South hard. While the war spurred the Industrial Revolution elsewhere, this region remained largely agrarian. Few areas in the South saw industrial development. The residents of Joplin, Hickory Ridge, and Batestown all struggled with their small farms in the war's aftermath. Until the 1880s, any chance for economic growth seemed bleak.
One day all that changed when a Baltimore man named John Detrick hiked along Quantico Creek. Near the confluence of the North and South Forks, he noticed something shiny in the water. It was pyrite, known commonly as "fool's gold" and scientifically as Iron Sulfide. One of the great ironies of this area was that "fool's gold" would prove more profitable than the real gold found in the Greenwood Gold Mine. The Cabin Branch Pyrite Mine began operations on a limited basis from 1889 to 1908, when the Cabin Branch Mining Company formed. In 1916, the American Agricultural Chemical Company bought the ride.
The large number of patents in the mid-nineteenth century and industrial growth after the Civil War made pyrite profitable. Suflur was a necessary ingredient in products such as glass, soap, bleach, textiles, paper, dye, medicine, sugar, rubber, and fertilizer. When World War I broke out, the Cabin Branch Pyrite Mine contributed to the production of gunpowder.