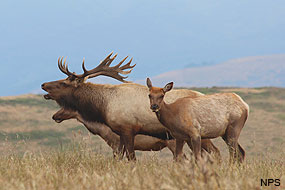 Free-Ranging Populations
Of the 45 elk transported to a holding pen for quarantine near Limantour Beach, 28 animals were cleared for release following screening for Johne's disease. Johne's disease, or paratuberculosis, is a chronic diarrheal disease of domestic livestock and can affect wild ruminants. After relocation from Tomales Point to the Limantour area, several elk were observed to have traveled across Drakes Estero where they established a sub-herd near Drakes Beach. In 2012, over 55 elk inhabited the Drakes Beach area while over 65 remained in the Limantour-Muddy Hollow-Glenbrook area. Opportunities for wildlife viewing have been greatly enhanced by the presence of these herds, and visitors can expect to view and photograph tule elk at Point Reyes even if they never travel to the far end of the park and into the Tomales Point preserve.
Point Reyes National Seashore remains the only National Park unit where tule elk can be found. The majestic animals you see as you travel through the park embody the restoration of the dominant native herbivore to the California coastal ecosystem. They shape the landscape around them as they did for centuries before they were extirpated by humans. They symbolize the conservation of native species and ecosystem processes, one of the primary missions of the National Park Service.
The tule elk's presence is treasured by visitors, photographers, naturalists, and locals alike. Their image has been expressed in the local folk art, numerous local and nationally published photographs, and even on the local trade/barter currency where they are depicted alongside cattle, coho salmon, and local produce as being emblematic of the community.
The project to reintroduce free-ranging tule elk to the Limantour area was made possible by generous grants from:
Canon USA, Inc., through the National Park Foundation
The Committee for the Preservation of Tule Elk
The Leonard X. Bosak and Bette M. Kruger Charitable Foundation
The Rocky Mountain Elk Foundation
Discover more about the tule elk by reading Tule Elk - Return of a Species (371 KB PDF, Adobe® Acrobat Reader® required to view document), or by visiting our Viewing Tule Elk webpage. Even more information can be found on sfnps.org's Tule Elk web pages.
Volunteer to be a Tule Elk Docent during weekends, July through September, at Point Reyes National Seashore.