Click on the following links to find out more about viewing opportunities for these species and to learn about their habitats and behaviors:
Birds ¦ Coho Salmon ¦ Elephant Seals ¦ Tule Elk ¦ Whales
The tule elk herds had virtually disappeared by 1860, 13 years before the state awarded them complete protection. In the spring of 1978, two bulls and eight cows were brought in from the San Luis Island Wildlife Refuge near Los Banos. The elk were contained within a temporary, three acre enclosure to allow for adjustment to their new surroundings. That summer, 6 of the cows bore calves. In the fall, 17 elk were released from the enclosure on Tomales Point to 1,050 hectares (2,600 acres) of open grassland and coastal scrub. By the summer of 1988, the population was at 93 animals. The population census taken in 2000 counted over 400 elk. In 2009, over 440 were counted at Tomales Point, making the the Point Reyes herds one of the largest populations in California.
The tule elk can be found in several locations within the park but the best chance of seeing them is in the Tule Elk Preserve at Tomales Point. They graze freely and are often seen near the road as you drive into the preserve.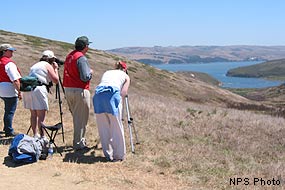 On weekends from August through October, Tule Elk Docents will be stationed at the Tomales Point Trailhead from 10:30 am to 4 pm and at Windy Gap (1 mile north along the Tomales Point Trail) from 11 am to 3:30 pm to interact with visitors curious about the tule elk. This is an exciting time of year on Tomales Point where visitors will likely hear bull elk bugling and see them attempting to round up harems of females. The lucky visitor may even get to see a couple of bull elk sparring. Spotting scopes and binoculars will be available for visitors to better view elk up close.
To help you enjoy your experience, please follow these elk watching tips:
For your own safety, always observe elk from a distance. Use binoculars and spotting scopes. If an elk becomes alert or nervous and begins to move away, you are too close.
If viewing from your car, pull off the road or park in designated areas.
If you are on foot, stay on the trail; do not come between a cow and calf, a bull and a group of cows, or two bulls challenging each other.
Watch quietly; whisper. Move slowly.
Do not feed the elk. Feeding elk or any other wildlife is unhealthy for the animals, potentially dangerous for visitors, and strictly prohibited.
Ride your bicycle only on designated trails. Within the Tomales Point Tule Elk Reserve, bicycles are only permitted on the Pierce Point Road. Bicycles are prohibited on the Tomales Point and McClures Beach trails.
Pets are prohibited in most areas where elk may be seen, including the Tomales Point Tule Elk Reserve.
Do not collect or remove elk antlers. They are an important source of calcium for many wildlife species such as rodents and deer.
Discover more about the tule elk by: