Opening of Visitor Center and Observation Deck Delayed

Due to sequestration Perry's Victory and International Peace Memorial will delay opening of the Visitor Center and Observation Deck till Saturday, May 25, 2013. Hours will be 10AM to 5PM. More »
News
United States Mint to Launch New Quarter Honoring Perry's Victory and International Peace Memorial on April 20, 2013
Put-in-Bay, Ohio - The public is invited to celebrate the release of a new quarter honoring Perry's Victory and International Peace Memorial on Saturday, April 20 at 11:30 a.m. The ceremony will be held on the lower plaza of the Memorial and will feature drumming by the Black Swamp Intertribal Foundation, the United States Naval Sea Cadet Color Guard (Firelands Division), the Put-in-Bay Brownie Troop, and vocalists Deb Parker and Robert Bell.
Invited guest speakers include the Governor of Ohio and Congresswoman Marcy Kaptur. Masters of Ceremonies for the event will be Greg Peiffer, President and General Manager of WIP/WPCR radio.
After the ceremony, guests will be treated to refreshments provided by the Put-in-Bay Chamber of Commerce and the Perry Group. "Thanks to First National Bank, who has agreed to be the sponsoring bank, visitors will be able to exchange dollars for the newly minted quarters after the ceremony," said Blanca Alvarez Stransky, Superintendent of Perry's Victory and International Peace Memorial.
More...
To see the program for the quarter launch click
here.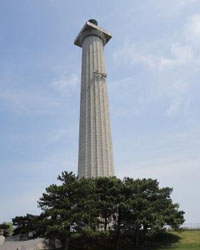 NPS Photo
Re-Opening July 3rd, 2012

Perry's Victory and International Peace Memorial on South Bass Island will officially open for visitation after being closed for almost three years on Tuesday, July 3 2012.
The memorial was closed due to restoration and due to an on-going investigation of the structural damage first discovered when a 500-pound piece of granite fell from the observation deck in June 2006. More..
For more stories on Perry's Victory and International Peace Memorial Visit the archives...
Follow us on Twitter and Facebook for the most up to date information!
More...

Did You Know?

With the Amherstburg blockade by Oliver Hazard Perry, British commander Robert Barclay's supply line was cut. He needed food and equipment for his new flag ship the Detroit. By September 9, 1813 he was down to a day's ration. So he removed the cannons from Fort Malden and placed them on the Detroit.