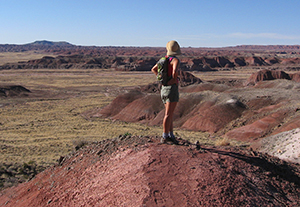 VIP Clint Metzler
Many people don't realize how much there is to do at Petrified Forest National Park!
A good starting point is a drive through the park, stopping at some of the overlooks, and perhaps walking one of the trails. There are seven maintained trails in the park that highlight topics like archeology, natural environments, and the famous petrified logs. In addition there are backcountry hikes with defined routes. Route brochures and maps can be picked up at the visitor centers/museums. You can also hike into the Petrified Forest National Wilderness Area that has two units: one in the north allowing hikers to roam the red and orange part of the Painted Desert; and one in the south showcasing highly eroded landscapes, badlands, and petrified wood. Backpacking overnight is allowed in the Wilderness Area with a free permit.
Park staff members rove the trails throughout the year to respond to any questions. During the busy season, guided programs are offered. We also have Facebook, Twitter, Flickr, and YouTube sites as well as a presence at Yelp, FourSquares, and Pinterest for up to date information on events.
You can stop at the Painted Desert Visitor Center, Painted Desert Inn National Historic Landmark, or the Rainbow Forest Museum to talk to someone about what's going on!