Exhibits
Exhibits enable the park to share information and stories with visitors. For those who want additional information, we are developing online adjuncts to our exhibits. QRcodes and URLs will link exhibits in the park to more information and images through the park website. More to come!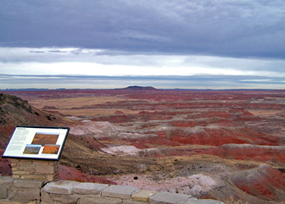 NPS
Kachina Point is a great place to overlook the red part of the Painted Desert. More information...

Did You Know?

The ecosystem at Petrified Forest National Park is not desert. It's one of the largest areas of intact grassland in the Southwest. More...