Maps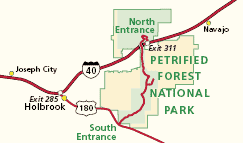 NPS
Petrified Forest National Park has a North Entrance off Interstate 40 and a South Entrance off Highway 180. Visitors may enter at one end of the park and exit at the other.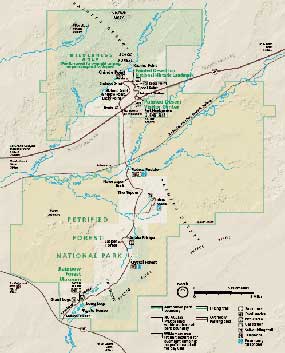 NPS
The park road runs 28 miles from end to end, with an optional 3.5 mile loop road at Blue Mesa. Travel time through the park is approximately 1 hour, without any stops. An average visit to the park is from 2-5 hours.
For a larger map: gif (100k) or pdf (274kb).
For a copy of the park's Trip Planner, which includes a map and general park information, and/or a copy of the glossy brochure, please contact us.