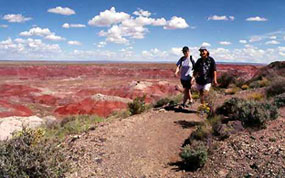 NPS
One of the best way to enjoy and experience Petrified Forest National Park is on foot.
Stay on designated trails while in developed hiking areas.
Pets are allowed on the developed trails. Pets must be kept on leash at all times. Please clean up after your animal.
Bicycles are not allowed on trails, except for the half mile access trail that leads to the junction between the Long Logs and Agate House Trails.
Most trails are paved and barrier free, but several have grades in excess of ADA requirements. Portions of some trails are deemed accessible. See the descriptions below for more specific information.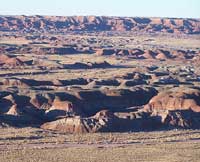 NPS/Marge Post
Painted Desert Rim Trail
Length: 1 mile (1.6 km) round trip
Trailheads: Tawa Point and Kachina Point
This unpaved trail winds through the rim woodland, a place for chance encounters of many species of plants and animals and spectacular views of the Painted Desert.
Tread width: 62 in (158.6 cm), min 60 in (152.4 cm)
Grade: 6.3%, max 25.6%
Cross Slope: 3.8%, max 16.2%
This trail does not have stairs, but the waterbars and dirt-gravel surface may make this trail unsuitable for strollers or mobility vehicles.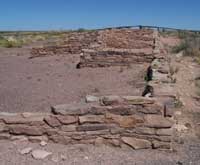 NPS/Marge Post
Puerco Pueblo
Length: 0.3 mile (0.5 km) loop
Trailhead: Puerco Pueblo parking area
A paved walk amidst the remains of a hundred room pueblo, occupied by the ancestral Puebloan people over 600 years ago. Petroglyphs can be viewed along the south end of the trail. Please do not climb on the boulders or walls and do not touch the petroglyphs.
Suitable for strollers and various mobility equipment (power and manual), except on short trail spur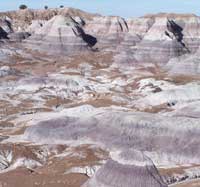 NPS/Marge Post
Blue Mesa
Length: 1 mile (1.6 km) loop
Trailhead: Blue Mesa sun shelter
Descending from the mesa, this alternately paved and gravel trail loop offers the unique experience of hiking among badland hills of bluish bentonite clay as well as petrified wood. Numerous plant and animal fossils have been found by paleontologists in the sedimentary layers of Blue Mesa.
Steep grade at beginning of trail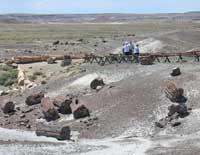 NPS/Marge Post
Crystal Forest
Length: 0.75 mile (1.2 km) loop
Trailhead: Crystal Forest parking area
Named for the presence of beautiful crystals that can be found in the petrified logs, this trail offers one of the best opportunities to experience the petrified wood deposits. Please leave the petrified wood for others to enjoy. Report any removal of petrified wood or other materials to park staff.
Tread width: 71 in (179.8 cm), min 65 in (165.1 cm)
Grade: 5.2%, max 22.5%
Cross Slope: 2.2%, max 11.3%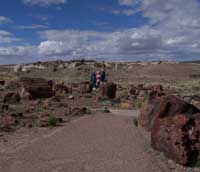 NPS/Marge Post
Giant Logs
Length: 0.4 mile (0.6 km) loop
Location: Behind Rainbow Forest Museum
Trail guide available at Rainbow Forest Museum
Giant Logs features some of the largest and most colorful logs in the park. "Old Faithful", at the top of the trail, is almost ten feet wide at the base!
This paved trail has several sets of stairs and may not be suitable for strollers or mobility equipment.
Tread width: 57 in (145.6 cm), min 48 in (121.9 cm)
Grade: 4.8%, max 19.1%
Cross Slope: 2.5%, max 13.4%
Long Logs and Agate House Trails can be combined for a total of 2.6 miles (4.2 km) round trip.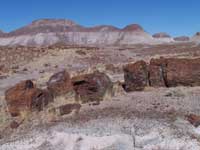 NPS/Marge Post
Long Logs
Length: 1.6 mile (2.5 km) loop
Trailhead: Rainbow Forest Museum parking area
Long Logs is one of the largest concentrations of petrified wood in the park. Explore this ancient log jam at the base of gray badlands. Please leave petrified wood for others to enjoy. Report any removal of petrified wood or other materials to park staff.
The first half-mile of this trail is paved and suitable for mobility equipment and strollers. Strollers may be negotiated on the loop, but it is not recommended for most wheelchairs and other mobility equipment due to its narrow turns and rough surface. Stairs to shade shelter can be avoided.
Tread width: 85 in (216 cm), min 50 in
Grade: 3.5%, max 20.5%
Cross Slope: 2.9%, max 17.4%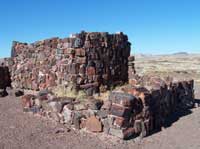 NPS/Marge Post
Agate House
Length: 2 miles (3.2 km) round trip
Trailhead: Rainbow Forest Museum parking area
Archeologists believe that this small pueblo was occupied for a short time about 700 years ago. Agate House was an eight room home with entered through the ceiling. Please leave any archeological artifacts for all to enjoy. Do not climb or sit on site walls.
The first half-mile of this trail is paved and suitable for strollers and various mobility equipment (power and manual). The rest of the trail may be negotiated over rough surface.
Tread width: 75 in (191.3 cm), min 60 in (152.4 cm)
Grade: 4.1%, max 14.7%
Cross Slope: 2.3%, max 10.4%
(Trail data reflects conditions at time of assessment: March 2014)