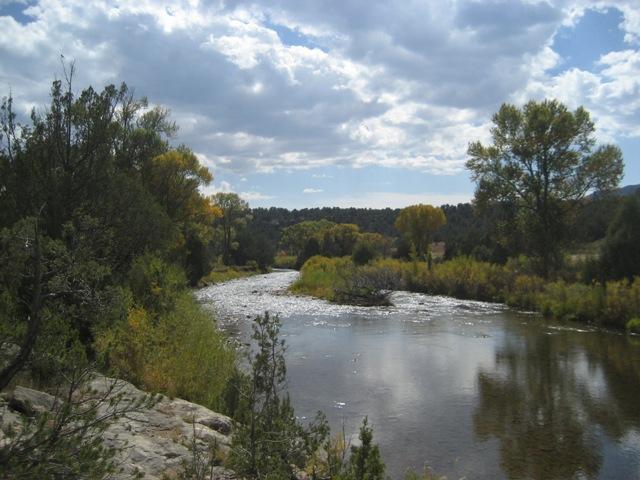 Park Photo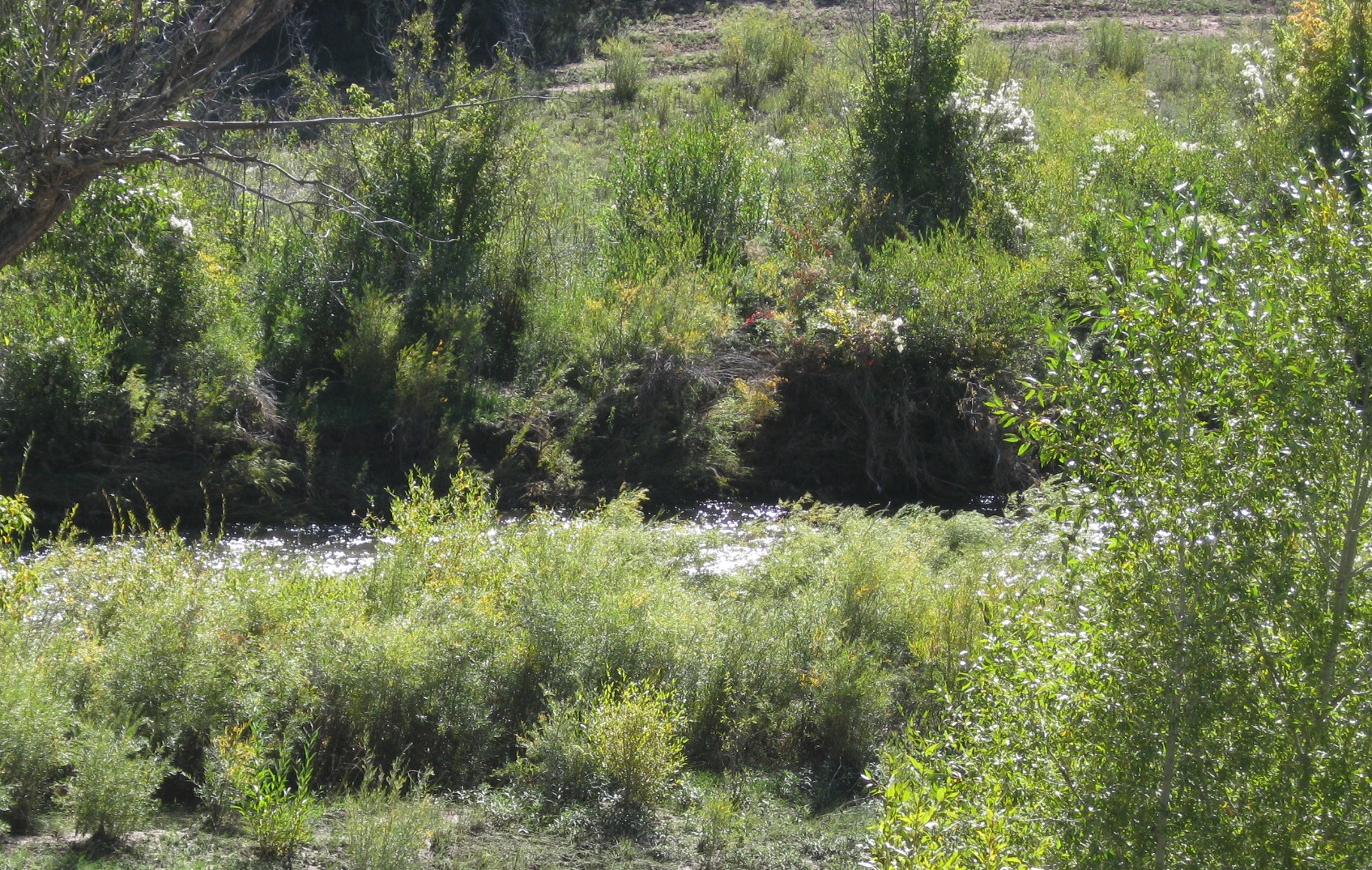 Photo by Patricia Lenihan
Fishing Summer 2015

Pecos National Historical Park ensures
that decisions about river access are guided by current conditions and science.
Park rangers and New Mexico Game & Fish staff performed fish surveys within the park in the fall of 2013, and found no trout. Park staff attributed this due to siltation from fall flooding from the Tres Lagunas fire area upstream. To allow fish populations to recover, the 2014 fishing program was suspended, and the three miles of river inside the park boundaries closed to public access.
The superintendent reopened the park to fishing for a spring season from April 5, 2015-May 11, 2015 and experienced anglers noted moderate success.
Summer fishing dates are from June 18-August 3.
Please follow the instructions below.
Reservations: Please call 505-757-7272 to leave your name, number of people that will fish (up to 3 per beat), date you would like to fish, and contact information including name, address, cell phone number and email address. Reservations will be taken in the order they are received. You will get a confirmation. Please note that assigned beats must be determined randomly and may not be requested in advance. Again, call 505-757-7272 to leave your reservation request.
------------------------------------------------------------------------------------------------------------------------------------
Now for a review of the rules...please read carefully as there are some modifications from previous years.
IMPORTANT: Spots will only be reserved for specified anglers.That is, when reserving places on the river, all anglers must be named and contact information provided, including a cell phone number. So, to reiterate, we will only reserve spots when full names and contact information are provided for each angler. If you want three spaces reserved, you must provide full information for three anglers. You will receive a confirmation email or phone call from the fishing permit ranger within a reasonable time after we receive your request.
The river is patrolled and please note that you may be cited if you have wandered from your assigned beat on the river *or* if you are running past the allowed permit time.

All anglers still must check back in with the Visitor Center when through fishing.

Beats are assigned to anglers in random order so it is not possible to reserve a specific beat. The only exception is that we may accommodate mobility issues; if you do have a mobility issue, please specify this when making reservations and we will work to avoid putting you on a beat that requires a long walk. If you have any questions, call 505-757-7272 (the fishing information line) and NOT the Visitor Center.
How the "walk-in" slots work: A walk-in beat is kept unreserved until the day of fishing, when the three slots are filled on a first come/first served basis. For the daily walk-in beat, first-come first-served anglers will be accommodated at the park Visitor Center after 8:00 a.m. on the day the angler wishes to fish (Thursdays through Mondays). Please remember that there is no fishing in the park on Tuesdays or Wednesdays.
The park opens at 8:00 a.m., and permit access to the river doesn't begin until shortly after 8:00 a.m. once your permit is processed. Remember you need a state license to fish at the park; here's a link to the the online licensing system at the NM Department of Game and Fish.
If you want to reach us by snail mail, here is our address: Fishing Program, Pecos National Historical Park, P.O. Box 418, Pecos, NM 87552.
FISHING OVERVIEW: HOW THE PROGRAM IS SET UP
For purposes of the Pecos National Historical Park fishing program, three miles of the Pecos River are divided into three sections or "beats." This approach offers anglers roughly one mile on the Pecos River to fish with up to two other people for the day.
Two beats (for up to six anglers per day) are available on a reservation system; one beat (for up to three anglers per day) is available on a first-come, first-served basis.
If you wish to have someone accompany you for the day who is NOT fishing, they still need to obtain a permit and pay for the slot, as the three-people-per-beat limit remains in force whether you are fishing or not. Also, the fishing program's basic intention is to provide access to an otherwise closed section of the park. There are no pets permitted on the river.

Please note that river access for fishing during this pilot program is by special permit, is always at the determination of the park superintendent, and may be terminated at any time.
River access times are Thursdays through Mondays, 8:30 am-3:00 pm in the Spring and Fall seasons; Thursdays through Mondays, 8:00 am-5:00 pm in the Summer season.
PLAN YOUR VISIT
As noted above, to take part in our fishing program, make advanced reservations for the two beats available per day (six anglers total) by emailing us or by calling the reservation line at 505-757-7272. If those spots are filled for the day you seek, you can try showing up at the Visitor Center to see if there are spaces available on the third beat, which has three angler spots and is always reserved for walk-ins.
RIVER CLOSURE DUE TO HIGH STREAMFLOW LEVELS
The Pecos River is susceptible to severe variations in streamflow due to extreme rainfall either in the valley or the headwaters and the melting of snow pack during the spring season. These variations can pose a danger to individuals in close proximity to the water.
Monitoring streamflow is essential in providing for the safety of anyone who is on the river during periods when extreme variations may occur. This is especially true in the spring when a melting snow pack raises the water level significantly on a day by day basis.
Discharge levels and Real-Time Water Data within the Pecos National Historical Park can be obtained at:
http://waterdata.usgs.gov/nwis/uv?08378500.
Access to the river will be based on streamflow levels measured in cubic feet per second (cfs) as monitored by USGS observation station 08378500 near Pecos, NM. Streamflow levels at or above 200cfs is the limit at which the Pecos River at Pecos NHP will be closed for fishing.
The limit considered to be safe streamflow levels (below 200cfs) is based on the USGS designation of flood stage, which is 5.0 gage height, feet. The equivalent of 200cfs when measured in gage height, feet is approximately 2.3ft or ½ of flood stage. It has been determined that at this level of discharge park staff conduct actions deemed necessary to ensure the safety of anglers.
CANCELLATION AND ARRIVAL TIME POLICY
Anyone who has made a reservation and must cancel should contact the Visitor Center and let staff know they are canceling a trip 24 hours in advance whenever possible. All anglers with reservations must check in to the Visitor Center no later than 9:30 a.m. the day of the permit. After 9:30 a.m., available spaces are given away on a first-come, first-served basis.
Please make sure to check streamflow levels. Above 125cfs means proceed with caution. At or above 200cfs means NO FISHING.
http://waterdata.usgs.gov/nwis/uv?08378500
FEES
$7 per person Park entrance fee* - Good for one week

$25 per person river access fee - Good for one day of fishing
*All National Park passes will be honored, including Senior, Pecos, Access and Annual passes. All fees will be paid at the Park Visitor Center on the day of fishing. All major credit cards are accepted.
| | | | |
| --- | --- | --- | --- |
| 2015 Season | Start Date | End Date | Reservations by phone accepted beginning |
| Spring | | | |
| Summer | June 18 | August 3 | May 18 |
| Fall | | | |
FISHING RULES AND REGULATIONS
All anglers must possess a valid New Mexico Department of Game and Fish (NMG&F) fishing license with Habitat Management and Access validations. Only those younger than 18, 100% disabled resident veterans, and resident anglers 70 and older are exempt from purchasing this validation. Only one validation need be purchased in any license year, and is required for 1-day, 5-day, or annual fishing licenses. Please note: resident anglers 70 years of age and older still need to carry a (free) fishing license available at any license vendor.

All fishing is catch and release!

Only artificial flies and lures with single, barbless hooks are permitted.
No bait such as worms, grasshoppers, salmon eggs, corn, etc. is allowed.
No pets are permitted with the exception of assistance animals.
Anglers must pack out all trash.
No commercial guiding allowed during the pilot program.
No open fires are allowed in the park. Smoking is prohibited except within designated areas. Other seasonal restrictions might apply.
Every angler will receive mandatory safety and rules orientation prior to fishing in the park.
All fees (i.e., $25 access fee, good for one day, and $7 park entrance, good for one week) are payable on the day of fishing at the Visitor Center.
Waders, wading shoes and personal nets can be rinsed at the Visitor Center before fishing.
Aquatic Guidlines Checklist (pdf)
Map from Visitor Center to the fishing beats.
CHECKLIST FOR ANGLERS
To help you prepare for your fishing trip at Pecos NHP, below we provide a (not all-inclusive!) checklist. We look forward to meeting you.
Check streamflow levels
Fishing Rod
Sunscreen & lip balm
Reel (if needed)
Rain gear
Extra line
Sunglasses
Extra tippet
Drinking water
Array of flies
Lunches or snacks
Fishing Vest
Extra layer of clothing
Hat
Binoculars for wildlife viewing
Camera
Trash bag
RIVER PROFILE
The Pecos River begins in the Santa Fe National Forest and heads south. After flowing through the town of Pecos and some private ranch land, the river enters Pecos National Historical Park, where it winds for three miles through a mixed Ponderosa pine forest.
The upper two miles form a beautiful and isolated stretch of river shaded by pines but bordered by grassy banks open for casting. The river curves against rock walls forming deep pools, interspersed with riffles and boulder studded runs. There are plenty of holding areas for trout and the gravel substrate supports abundant invertebrates.
The lower one mile flows through more open country and becomes braided, gliding past grassy banks, willow thickets and cottonwood stands, ending in an enticing pool against a cliff wall. Introduced brown trout and rainbow trout from 8"-14" can be caught with typical trout stream patterns, and a dry fly and a dropper is a good combination to try.
Fossils are visible in limestone outcrops along the river near the old railroad bridge, and a variety of birds can be seen in this nearly pristine riparian area. Everyone who sees it can enjoy the sense of wilderness and natural grandeur on this stretch of the Pecos River.
EXPLANATION OF NPS SPECIAL USE PERMITS
A special park use is a short-term activity that takes place in a park area and provides a benefit to an individual, group or organization, rather than the public at large. The National Park Service may permit a special park use providing the activity will not cause derogation of the park's resources or values, visitor experiences, or the purpose for which the park was established. Primary consideration will be given to potential resource damage and to anticipated disruption of normal public use.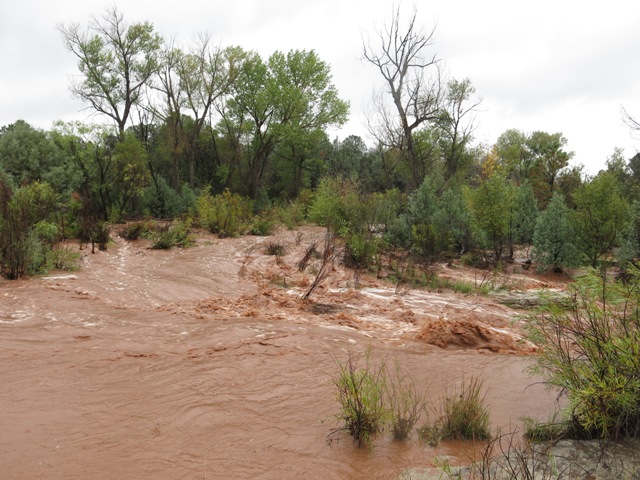 Photo by Gary Zbel

Park Photo