Pets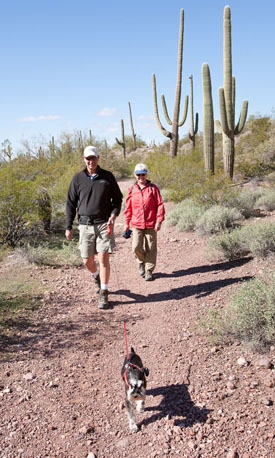 NPS Photo
Pets are welcome on the Palo Verde Trail, Campground Perimeter Trail, and all roads open to visitors, including the paved campground areas. They are not allowed on any other trails or in the wilderness and must be leashed.
Temperatures can soar well above 110 degrees in the summer time, and over 90 degrees even in the winter. Just as you should drink water all day, make sure your pet has enough water to keep them well hydrated and cool. Pets should never be left alone in a vehicle.
Please keep your pets on a leash for their safety and the well being of the wildlife. Even good dogs under voice control might stumble onto a wild animal without warning.
Watch for cholla along any of the roads and trails. Carry tweezers to pull spines out of paws and noses.
Pavement and rocks get very hot, avoid walking your pets during the hottest parts of the summer days, paws will burn.
Please be a good pet-owner and clean up after your pet.


Did You Know?

Ninety-five percent of Organ Pipe Cactus National Monument is designated wilderness. Anyone can experience this irreplaceable resource, for in Organ Pipe Cactus NM the wilderness is to be found just a few yards off any road.