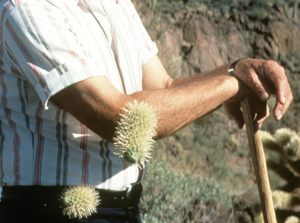 NPS Photo
Other Safety Considerations
Ouch!: Desert Flora
Many plants in the desert have spines, thorns, and sharp edges that protect them from browsing animals and the scorching sun. What serves a purpose for the plant, might present a danger to you. Consider wearing boots and long pants while hiking. Stay on the trail. Add a large tooth comb to your first aid supplies. You can use this to easily remove cholla cactus if you unfortunately come in contact with one.
Sharing the land: Give wildlife their space.
Venomous snakes, scorpions, spiders, and centipedes are all active during the warmer months. Inspect your shoes and sleeping bags or bedding before use and always carry a flashlight at night. Never place your hands and feet in places you cannot see. While snake bites are rare, they usually occur below the knee or elbow.
Javelinas, skunks, coyotes, squirrels, ravens, and other mammals and birds are all residents of Organ Pipe Cactus National Monument. Even though an animal may appear tame, it is still wild and could pose a threat to your health and safety. Do not approach wildlife. Observe and photograph from a safe distance. Harassing or feeding any wildlife is prohibited. To prevent any animal from becoming habituated to people, all food, coolers, cooking utensils, and toiletries should be stored in the trunk of your car.
A few mountain lions range throughout the monument. Sometimes tracks are found but sightings are extremely rare. Nevertheless, should you come too close to a mountain lion, do not run. Make yourself as large as possible and keep children by your side. Do not stoop down.Throw anything that is within reach, even personal items, and shout.
Fire
Fire danger is always an important safety consideration in the desert. Wood or ground fires are not permitted anywhere in Organ Pipe Cactus National Monument. Please exercise caution when using gas stoves, charcoal grills, and smoking cigarettes. The monument has experienced drought conditions in past years when the use of these heat sources was restricted. Check with a ranger for the latest information about fire safety in the monument.