Alamo Canyon Campground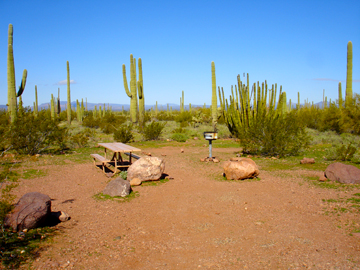 NPS Photo
Alamo Canyon Campground is established for primitive tent camping only. Motorhomes and trailers are not permitted. Facilities include four campsites with charcoal grills, tables, pit toilets, and trash cans. Wood fires and ground fires are not allowed.
Camping is by permit only and is limited to the four established sites, with a maximum of 20 people per night for the entire campground. A camping permit must be obtained at the Kris Eggle Visitor Center before occupying a campsite. Sites are assigned on a first come, first served basis. Unregistered vehicles are subject to citation or towing at the owners expense.
Camping permits are $8.00 per day and camping is limited to seven (7) consecutive calendar days. Holders of the Golden Age/Senior or Access Pass receive a 50% discount on camping. Check-out time is 11:00 a.m. The monument's $8.00 entrance fee, valid for seven (7) consecutive days, is required in addition to the camping permit.
For additional campsites and expanded facilities, including RV sites, restrooms, and a dump station, please visit the Twin Peaks Campground.
Did You Know?
Gila Monsters are one of only two species of venomous lizards found in North America. You can find them in the late spring through early autumn at ORPI. They move really slow, and you have to try pretty hard to get bit. We don't recommend it. It hurts, and they don't let go.