Operating Hours & Seasons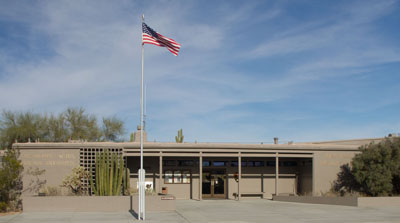 NPS Photo
Kris Eggle Visitor Center
Organ Pipe Cactus National Monument is open every day of the year. The Kris Eggle Visitor Center is open daily from 8:30 a.m. to 4:30 p.m. On Thanksgiving and Christmas the visitor center is closed but the park remains open.
Roads
Occasionally the scenic roads are closed, especially during the summer monsoon season. Please check current road status at the visitor center or call, 520-387-6849, ext 7302.
The state of Arizona is on Mountain Standard time. It does not observe Daylight Savings Time.

Park Info On Your Phone

Dial 5-1-1 while in Arizona for local travel information.

Ranger Programs

Daily ranger programs are scheduled January through March. Check the bulletin boards or inquire at the visitor center Read More
Did You Know?
Lesser long-nosed bats are considered an endangered species. Every summer Organ Pipe Cactus NM hosts a "maternal" colony consisting of 20,000 pregnant female bats. They come to feast on the pollen, nectar and fruit of the cactus. They are the primary pollinator of Organ Pipe Cactus. More...