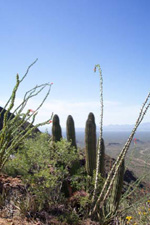 Andy Fisher, NPS
As a protected area, Organ Pipe Cactus National Monument allows the life of the Sonoran Desert to flourish under nearly ideal wilderness conditions. The monument is an outstanding natural preserve where one of the of the Earth's major ecosystems survives almost unspoiled.
Recognizing its significance, the United Nations in 1976 designated the monument as an International Biosphere Reserve.
Conservation and scientific research, including studies of human impact on the desert, will be invaluable in protecting the life of the desert.