Madison Falls Trail Closed for Repairs Beginning July 7

The one-tenth mile Madison Falls Trail and trailhead parking lot located in Elwha Valley will close to public entry beginning on Monday, July 7 while crews make improvements and repairs.
Hurricane Ridge Road Closed to Vehicles Sunday 8/3 (6:00a - noon)

Due to the "Ride the Hurricane" bicycle event, the road to Hurricane Ridge will be closed above the Heart o' the Hills entrance station from 6:00a to noon on Sunday August 3rd.
Spruce Railroad Trail Improvements to Begin August 5

Spruce Railroad Trail will be closed from the Lyre River TH to approximately 0.25 miles east of Devil's Punchbowl. Work is expected to be completed by the end of October. The remainder of the trail will be accessible from the Camp David Jr. Road TH. More »
Visiting Mora and Rialto Beach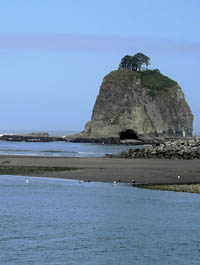 Overview:

Rocky beaches, giant drift logs, pounding waves and views of offshore islands known as 'seastacks' are features that define Rialto Beach.
Just inland is the Mora area, characterized by towering trees, lush undergrowth and the omnipresent roar of the Pacific Ocean in the background.
Rialto Beach is accessible by Mora Road, off of La Push Road. Rialto Beach is about 36 miles southwest of Lake Crescent, and about 75 miles from Port Angeles (directions).
A general map and information regarding facilities, picnic areas, camping, and regulations can be found on the park's Mora brochure (pdf).
Places to Stay:

The 94-site Mora campground is about three miles from Rialto Beach. The town of Forks is nearby and lodging can be found through the Forks Chamber of Commerce website.
Recreation:

Hole-in-the-Wall is a sea-carved arch about 1.5 mile north of Rialto Beach, within the Olympic wilderness.

The Quillayute River blocks access from Rialto Beach to First, Second, and Third Beaches. First Beach is part of the Quileute Indian Reservation (Quileute Indian Nation); Second and Third Beaches just to the south are located within Olympic National Park and are part of the Olympic Wilderness Coast.
Always check the tides! It's possible to get stranded when certain areas of the coast become impassable when high tide rolls in.
Nearby Areas:

The town of Forks can be reached in less than 30 minutes by car. The Hoh Rain Forest and the southern coast, such as Ruby Beach and Kalaloch, are within a one-hour drive from Rialto. Consult the Getting Around page for mileages to and from different park destinations.
Park Brochures

Maps and general info about camping, picnic areas, trails, and facilities in park destinations. Read More
Did You Know?
The Belted Kingfisher will hover in place directly over a river, lake, or pond, watching for fish before diving to catch them.