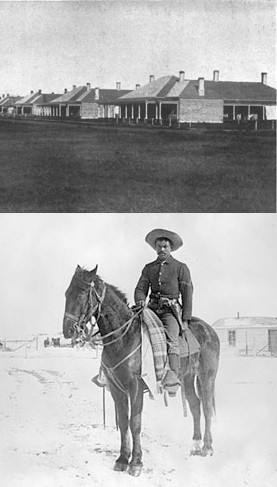 University of Arizona/Denver Public Library
Fort Niobrara
The Treaty of 1868 created the Great Sioux Reservation north of the Niobrara in Dakota Territory. Over the next two decades, the U.S. Army proceeded to surround the reservation with a ring of forts to monitor the tribes.
Construction of Fort Niobrara, the southernmost of the forts, began in 1879 on a well-watered, well timbered site selected by General George Crook. This was close enough to monitor the Sioux, but far enough to avoid accidental friction between the tribes and the troops. The soldiers constructed a steam-powered sawmill to cut lumber and made adobe bricks. The fort was laid out in a standard military pattern with barracks and stables on one side of the parade ground and officers' quarters on the other.
Fort routine was relatively peaceful; soldiers drilled, worked at construction and maintenance of the fort itself and shipped beef and supplies to the Rosebud Reservation. The fort served as an embarkation point for troops responding to the Pine Ridge outbreak, which culminated in the Wounded Knee massacre of 1890. Among the units stationed at Fort Niobrara were the African American troops of the 9th Cavalry.
The fort was closed in 1906, but served as a remount station until 1911. Today, all that remains of Fort Niobrara are a hay barn, some old foundations and memories of the ring of bugle calls and the thunder of hooves that once rode the prairie wind.
A story of Fort Niobrara from the University of Arizona library.