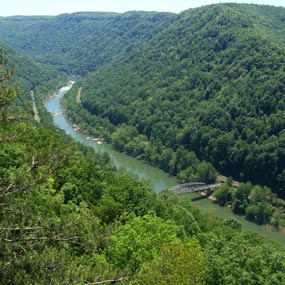 Exploring Fayette Station Road is to travel back in time before the modern New River Gorge Bridge was built in 1977. This one hundred year-old road of hairpin turns winds down to the bottom of the gorge, across a narrow bridge, and up the other side. Visible along the way are vistas of the river and bridges, a hardwood forest, and remnants of the New River Gorge communities that once teemed with activity.
In 1873 the C&O Railway opened this rugged wilderness and carried coal out of the gorge to ports in Virginia and cities in the Midwest. By 1905, thirteen towns sprang up between Fayette Station Road and Thurmond 15 miles upstream, about one per mile. Between the 1870s and the 1950s, West Virginia coal contributed significantly to the industrialization of the United States as it fed the nation's trains, factories, and fleets.
At river level, Fayette Station Road runs directly through remnants of the townsites of Fayette and South Fayette. The establishment, growth, and ultimate demise of these two towns represent the general life cycle of a town in the gorge. A landowner or mining company opened a coal mine and built company-owned houses and a store, creating a company town. Decades later, when the coal seam was exhausted or the mine closed because of changes in the marketplace, people moved away and these towns were ultimately deserted.
Today, the New River Gorge is known for its outstanding natural and scenic beauty. The many remains of the once vibrant towns, mines, and homes that filled the gorge are now mostly hidden beneath layers of native vegetation. Along Fayette Station Road, however, some remnants of the area's coal mining and railroad heritage prevail.