Mill Ruins Park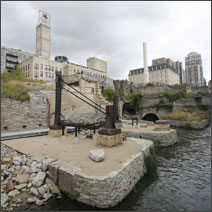 Overview
Mill Ruins Park opened on Oct. 1, 2001, to celebrate the history of 19th-century ruins that were once mills and powered by St. Anthony Falls on the Mississippi. During the 19th-century, flour became what put Minneapolis on the map and was exported around the nation and world.
The Mississippi River played a key role in developing the Milling District at the Minneapolis Riverfront. The mills and canals along the river made up the largest direct-drive, water-powered facilities in the world and greatly increased the production of flour.
In 1994, the Stone Arch Bridge was converted into a pedestrian and bike trail. Visitors can walk across the bridge to take in the views of St. Anthony Falls, the only waterfall on the entire Mississippi River. The bridge links Mill Ruins Park on the west and Father Hennepin Bluffs Park on the east bank.
The park is located on the west bank of the Mississippi River, adjacent to St. Anthony Falls and the Stone Arch Bridge and is known as the focal point of the Minneapolis Milling District.
Did You Know?

At Lake Onalaska, near LaCrosse WI, the Mississippi River is about 4 miles wide. The combination of water held behind Lock and Dam #7 and water held by damming the Black River form this broad reach of the Mississippi River.