Gold Medal Park
City of Minneapolis
Second Street and 11th Avenue South, Minneapolis, MN
Near the Guthrie Theater.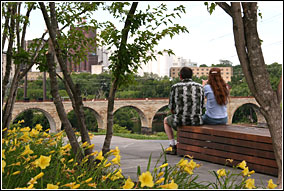 History
Gold Medal Park, which opened in May of 2007, is among Minneapolis' newest parks. The area was a gathering place for Minnesotans in the aftermath of the I-35W bridge collapse that occurred on August 1, 2007.
General Information
This 7.5 acre park in the heart of the St. Anthony Falls area contains a 32' tall mound whose top may be accessed by a spiral sidewalk. At the top there is seating amidst a grove of trees with good views of the Mississippi River, the historic Stone Arch Bridge, Guthrie Theater, and the historic milling district. The memorial for the I-35 bridge collapse was built across Gold Medal Park.
Activities: Walking, good views of the historic milling district and the Mississippi River.
Hours: 6 a.m. to 10:00 p.m., unless otherwise posted.
Contact Information: Call Minneapolis Parks and Recreation at 612-230-6400.
Did You Know?

The river is so shallow at Lake Itasca that children can walk across the Mississippi. Between Governor Nicholls Wharf and Algiers Point in New Orleans, the Mississippi is more than 200 feet deep.