John H. Stevens House Museum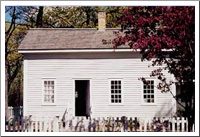 Overview

Originally located near St. Anthony Falls, the house was home to Col. John H. Stevens and is believed to be the first home built west of the Mississippi in Minneapolis. Stevens had permission in 1850 to occupy the site, which was part of the Fort Snelling military reservation, in exchange for providing ferry service.
The Dakota Indians sometimes camped around the house. In this house, the name "Minneapolis" was suggested and some of the first elections in Hennepin County were held here.
The house has been relocated twice since 1850. Thousands of school children helped move the house in 1896 next to Minnehaha Park, and in 1982 it was moved into the park. The museum opened to the public in 1985.
Inside, visitors can can experience the rich history of the house through displays that show the Stevens family and other early Minnesotan families who occupied the house. The Longfellow House and Stevens House co-sponsor 90-minute historic nature walks through the park.
Contact Information: : Call 612-722-2220 or visit Minneapolis Park & Recreation Board for more details.
Did You Know?

At Lake Onalaska, near LaCrosse WI, the Mississippi River is about 4 miles wide. The combination of water held behind Lock and Dam #7 and water held by damming the Black River form this broad reach of the Mississippi River.