Mississippi Gorge Regional Park
Minneapolis Park and Recreation Board
Good access in Minneapolis at the end of the Ford Bridge, the Lake Street Bridge, Franklin Avenue and at many points in between. Access on the St. Paul side between Emerald Street and the Hidden Falls Regional Park entrance on Mississippi River Boulevard.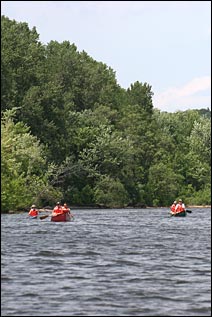 General Information
The Mississippi Gorge was formed as the Mississippi River cuts away the soft sandstone that supported an upper layer of harder limestone and shale. Over thousands of years, the sandstone wore away and the limestone fell to the bottom of the river creating the gorge we see today.
Along the Gorge at 36th Street in Minneapolis, a small remnant pocket of prairie has survived over the last 30 years. The prairie, a mesic oak savanna, has scattered oak trees with a groundlayer of prairie grasses and wildflowers, and is identified as a location in need of restoration and further management work. Development of the site specific restoration plan was started in 1998.
In 1998, the Longfellow Community Council, the Minneapolis Park & Recreation Board (MPRB), and the Mississippi National River and Recreation Area (MNRRA), created a partnership to undertake restoration of the native prairie remnant at this site. Today, visitors can experience what the 36th Street oak savanna community looks like in pre-settlement time.
Activities: The park provide trails for biking and hiking on both sides of the river in Minneapolis and St. Paul. Picnic shelters are also scatter across the park.
Hours: 6 a.m to 10 p.m., unless otherwise posted.
Contact Information: Call the Minneapolis Park and Recreation Board at (612) 230-6400 or St. Paul Parks and Recreation at (651) 266-6400.