Little Bighorn, A Place of Reflection
This area memorializes the U.S. Army's 7th Cavalry and the Sioux and Cheyenne in one of the Indians last armed efforts to preserve their way of life. Here on June 25 and 26 of 1876, 263 soldiers, including Lt. Col. George A. Custer and attached personnel of the U.S. Army, died fighting several thousand Lakota, and Cheyenne warriors.
Features
Battle of the Little Bighorn

The Battle of the Little Bighorn is one of the most famous battles in American history.

Read More

Custer's Last Stand

NEW!! See Little Bighorn Battlefield National Monument's podcasts.

Read More

Indian Memorial

An Indian Memorial was dedicated June 25th. 2003. It was placed in memory of all the tribes defending their way of life at the Battle

Read More
Did You Know?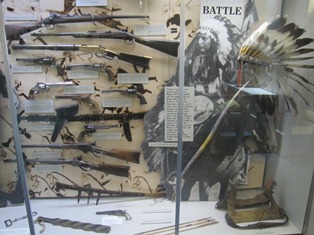 From archeological evidence the warriors who fought in the battle used about 45 different types of firearms, ranging from muzzle loaders, cap and ball to the advanced Henry and Winchester repeaters. Its believed about 10% of the warriors had firearms and the majority fought with their traditional weapons.