Things To Do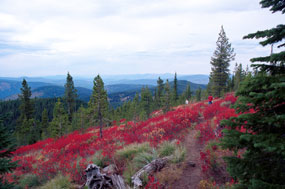 NPS photo
Today you can still experience the Trail as the Corps did. Hike Idaho's Bitterroot Mountains and follow the centuries' old footsteps of the Salish, the Nez Perce, and the Corps of Discovery. Explore meadows and forests on horseback. Raft the roiling whitewater of the Missouri River in Montana or canoe a tranquil stretch in South Dakota, home of the Yankton Sioux.
You can also enjoy activities never imagined by the Corps. Bicycle along a rugged path or an endless blacktop. In winter, discover the Trail on skis or snowshoes. Travel by car or bus to see in days what that Lewis and Clark required months to explore.
Despite the hardships suffered over the two year journey, Meriwether Lewis wrote that "it seemed as if those [scenes] of visionary inchantment would never have an end."
Explore the Trail and find your own scenes of visionary enchantment.


Did You Know?

Jefferson expected the Expedition to learn about the people, plants and animals of the newly acquired Louisiana Purchase. None of the men of the Expedition was a trained scientist, but fulfilling Jefferson's instructions required skills in cartography, ethnography, botany, zoology, and meteorology.