Maps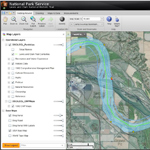 NPS
Personalize your trail exploration by discovering exciting trail themes with this interactive map. Travel to Lewis and Clark campsites, learn about the historic river, and dynamically display different map backgrounds of your choice. Users can:
Zoom in and out of areas of interest and decide the geographic extent and scale at which they want to view the trail
Turn layers of information on and off in the table of contents
Display different backgrounds (e.g. aerial photos, topographic maps, streetmaps) and control the transparency of imagery backgrounds
Draw and add text to directly on the web map and export and print these as custom maps
Measure distance, area, and add their own GIS and GPS data to the web map
Click on links to get more information on the web as well
Open and view locations in Google Maps and Google Earth Streetview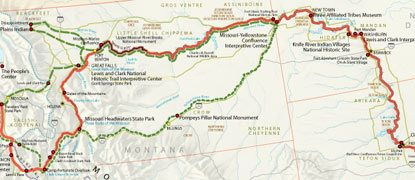 NPS
A map of the Lewis and Clark National Historic Trail is available here (as a pdf) or you may request a map brochure please email us at lecl_information@nps.gov


Did You Know?

Today's Lewis and Clark NHT is the joint effort of many organizations and agencies. Although the Trail is administered by the NPS, sites along the Trail are managed by federal land management agencies, state, local, tribal, and private organizations. More...