Plan Your Visit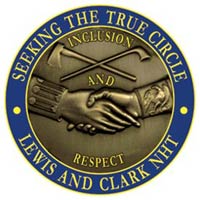 NPS Image
The Lewis and Clark Expedition traveled from Illinois to the Pacific Ocean and back between 1804 and 1806. Over two hundred years later, visitors can retrace the Expedition's path by following the Lewis and Clark National Historic Trail. Among the more than 100 sites along the Lewis and Clark National Historic Trail, only five are National Park Service sites. Today's Trail is the product of many diverse groups: federal, tribal, state and local agencies, and public and private organizations. These groups work together across more than 3700 miles of the Trail to provide opportunities for visitors to experience and learn about the Lewis and Clark Expedition and its many stories.
To learn more about sites along the Trail, click any of the links above or find out what's available on the Trail state by state.


Interactive Trail Atlas

Personalize your trail exploration by discovering exciting trail themes with this interactive map. Travel to Lewis and Clark campsites, learn about the historic river, and dynamically display different map backgrounds of your choice. Read More

Meet the Members of the Expedition

Learn more about some of the many people who had a role in the Expedition. Read More

Lewis and Clark NHT Photo Albums

Explore the Lewis and Clark story and Trail through pictures. Read More
Did You Know?

Seaman, Lewis's Newfoundland dog, joined the Expedition in Philadelphia when Lewis purchased him for $20. On the journey, Seaman served the Corps as hunter, sentry, and companion. Upon reaching the Pacific, Seaman became the first dog to travel the breadth of the North American continent.