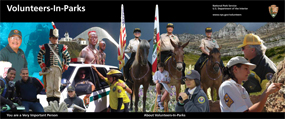 NPS
Lewis and Clark National Historic Trail Headquarters in Omaha, Nebraska
We have volunteer opportunities available at Lewis and Clark National Historic Trail (NHT) headquarters. You can find us along the Missouri River in downtown Omaha, next to the Pedestrian Bridge. Our visitor center is located in the Midwest Regional Office of the National Park Service. The visitor center area has Lewis and Clark exhibits, brochures, touch tables and an outdoor garden area.
The positions currently available are listed below. Please contact our Volunteer Coordinator at 402-661-1886 or stop at the visitor center to fill out an application.
Special Event Volunteer
The special event volunteers are on call for events such as Earth Day, River Clean-ups, the State Fair, education festivals, National park week, etc. Special events can be either on-site or off-site in the Omaha/Lincoln area. If offsite, mileage may be reimbursed. Duties may include tipi set-up, graphic design, or interpretive or education programs.
Publications Inventory Management
Lewis and Clark NHT is responsible for maintaining Lewis and Clark brochures as well as brochures from all National Park sites. This is over 400 brochures. The position is geared toward those who have good organizational skills and who want to work behind the scenes and not directly with the public.
Volunteer Interpreter/Educator
This person is responsible for touch table activities and demonstrations in the gardens during summer months and/or outreach to schools during the year. There is a wide range of opportunities from creating touch table activities with props, to wearing Lewis and Clark period clothing and portraying a member of the Expedition. Duties vary depending on knowledge and experience.
Visitor Center Information Desk
This position is designed for those who like working with the public. Visitation can vary dramatically from day to day. The spring, summer and fall will be full of activity and opportunities to talk about the Lewis and Clark Expedition as well other National Parks and other area attractions. Volunteers are needed on weekends from Memorial Day through Labor Day and on weekdays for afternoon shifts throughout the year.
Special Project Volunteers
Trail staff offer technical assistance in eight professional areas to partners and communities along the 3,700 miles of trail. Volunteers are often needed to help with the implementation of many of these projects that exist within a half-days drive. Projects vary in scope, length, and in the level of expertise needed to assist. Opportunities may be for field work such as surveys, inventories, remote sensing, research and data collection, editing, and much more.

Special Project Volunteers Needed Currently:
For more National Park Service opportunities visit:
www.nps.gov/volunteer or www.volunteer.gov/gov