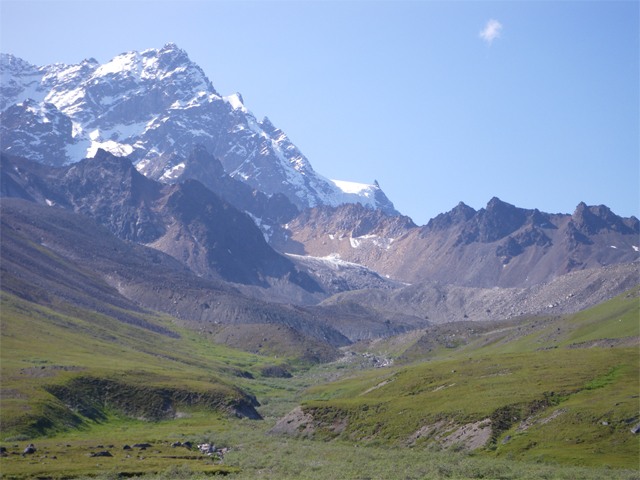 A. Lindholm
Maps: USGS 1:63 360 Series Topographic Map Lake Clark C3 & D3 & D2
Access: Fly in to Telaquana Lake. Fly out from a variety of other lakes, such as Turquoise or Twin Lakes.
Time: 3-5 days
Difficulty: Moderate trail-less hiking over rolling alpine tundra, steep rocky passes, and glacier travel.
Highlights: Spectacular mountain scenery, opportunities for adventure and solitude.
Hazards: Potential river crossings. Glacier travel required.
Route: Begin along the south shore of Telaquana Lake and head south to the Trail creek drainage. Trail creek is alpine country that turns into rocky glacial moraine. Watch out for lose boulders as you climb up the steep rocky pass and descend down the steeper and rockier north side of the pass. You'll emerge onto a wide glacier that is one of the most gentle glaciers in the park. If you follow the glacier downhill, then walk along the river that emerges from it, you will end up at Turquoise Lake.
Trail Creek Route

1 Photos

Despite its name, there is no formal trail along Trail Creek. The images here preview what a hiker can expect along this general route.