West Cook Inlet: Ethnographic Overview and Assessment for Lake Clark National Park & Preserve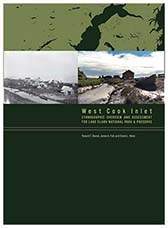 by Ronald T. Stanek, James A. Fall, and Davin L. Holen
To obtain a copy of this book, please email us.
Table of Contents
Chapter 1 Study Background
Chapter 2 West Cook Inlet and the Dena'ina
Chapter 3 The Coming Of the Russians 1780s - 1867
Chapter 4 The Early American Period 1867 - 1900
Chapter 5 The Early and Middle 20th Century 1900 - 1960s
Chapter 5 The Early and Middle 20th Century 1900 - 1960s
Chapter 6 Contemporary Life on the West Side of Cook Inlet
Chapter 7 Discussion and Conclusion
Endnotes, References, & Appendices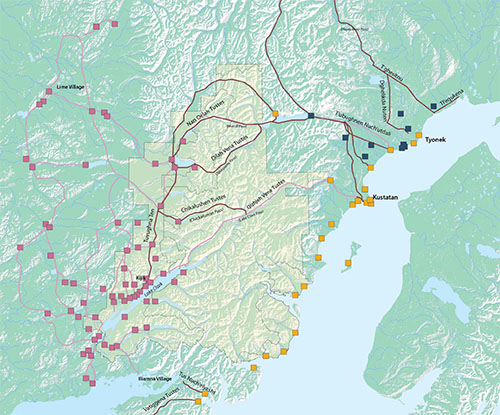 Dena'ina Trail System & Camps
Includes Hunting, Fishing, & Trade Related Camps
The trails and camps shown here are traditional locations mentioned in ethnographic sources and oral histories. These included Kari & Fall (2003) and Ellana & Balluta (1992). In addition, there are many camps mentioned in the the text which come from different sources and those have been included as west Cook Inlet Camps. The camps and trails on this map do not demonstrate all the camps and trails that were used traditionally by Dena'ina peoples. For privacy concerns contemporary camps are not shown. Trail locations are approximations. Nan Qelah is the trail head of the Telaquana Trail and is sometimes used as another name for the Telaquana Trail. Tuvughna Ten is a short section of the 50-mile long Telaquana Trail, about a 5-hour summer's walk from Nan Qelah and 9 miles north of Lake Clark (Branson 1994).