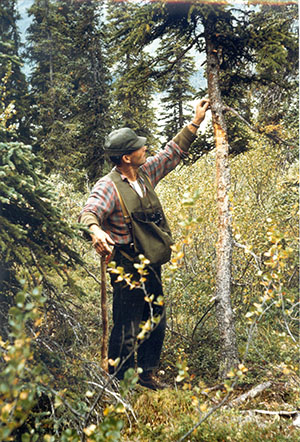 Photo courtesy of Raymond Proenneke
From Youthful Hunter to Older Conservationist
Proenneke's evolution from sport hunter, to subsistence hunter to non-hunter seems to have been part and parcel of a fairly common feature of the maturation process of many American hunters. Writer-ecologist Aldo Leopold is most eloquent in his book A SAND COUNTY ALMANAC when he recounts a similar journey of personal growth to that of Proenneke's when he speaks of shooting wolves in Arizona in the early twentieth century.
"In those days we had never heard of passing up a chance to kill a wolf. In a second we were pumping lead into the pack ... When our rifles were empty, the old wolf was down, and a pup was dragging a leg into impassable slide-rocks … We reached the old wolf in time to watch a fierce green fire dying in her eyes. I realized then, and have known ever since, that there was something new to me in those eyes-something known only to her and to the mountain. I was young then, and full of trigger-itch; I thought that because fewer wolves meant more deer, that no wolves would mean hunters'paradise. But after seeing the green fire die, I sensed that neither the wolf nor the mountain agreed with such a view." [ p130]
Two other hunters who lived around Lake Clark for a number of years, the late Jay Hammond and 90-year-old Allen Woodward, both part of the Greatest Generation of WW II vets and both underwent the journey from youthful hunter to older conservationists. Hammond, a big game guide and former U.S. Fish and Wildlife predator control-pilot, and Woodward, an ardent sport hunter both traveled the same trail as Proenneke and Aldo Leopold did, as they aged they much preferred to observe wildlife alive as opposed to simply looking at them as food for the table or trophies on the wall.