A Virtual Tour of Dick Proenneke's Cabin
Welcome to Twin Lakes and Dick Proenneke's cabin!

On this tour, you can step onto the beach of Upper Twin Lakes and see the spectacular view of the surrounding mountains. You can also enter the cabin to take a look around. Inside, you'll be able to get an up close look at Proenneke's celebrated woodworkmanship and even the desk where he penned his journals, all nestled in a remote corner of Alaska where few ever get to visit.
Use your mouse to move left and right or up and down. There's a control panel at the bottom of the image where you can zoom in and out, enter full-screen mode, and even rotate the image automatically.
When you click on hotspots in the image you'll find more information about Proenneke's interesting and cozy home. Click on the hotspots a second time to disappear the text and image boxes.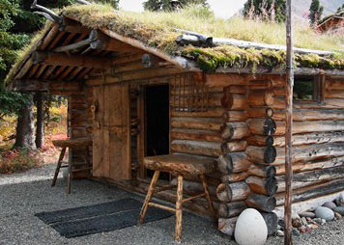 NPS Photo / Kevyn Jalone
Tour Twin Lakes
This virtual tour gives you an idea of the beautiful landscape around Twin Lakes. Your initial view is from the lake shore, looking at Proenneke's cabin. Click and drag your cursor left or right to spin your view, and keep an eye out for small circle icons that indicate you can switch your view to a new part of the area.
Open the Twin Lakes virtual tour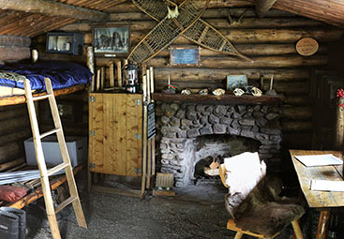 NPS Photo / Chuck Lindsay & Kevyn Jalone
Inside Proenneke's Cabin

Take a look at the inside of Dick Proenneke's cabin. The perspective is curved to allow you to look up at the ceiling, as well as around the room. Pay particular attention to the incredible craftsmanship - and consider that Dick made just about everything by hand in the middle of the wilderness!

Peek inside Proenneke's cabin

Virtual Tours for iPhone or iPad

The tours above are available in Flash, a file type that cannot be opened on an iOS device (e.g., iPhone or iPad). Use the versions below if you're on a device that refuses to open Flash: