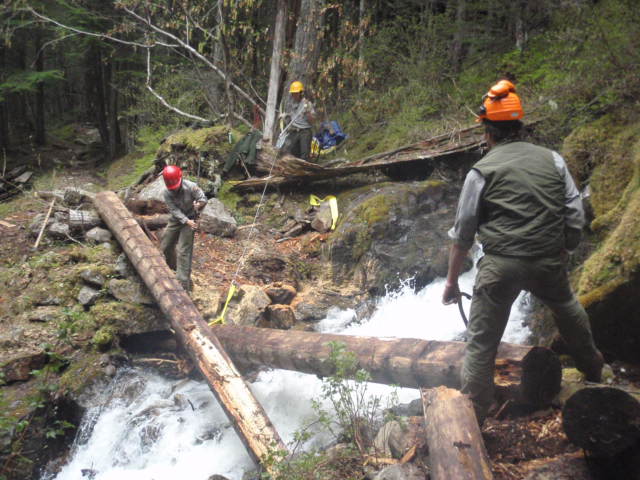 NPS photo
The National Park Service offers a wide variety of positions both seasonal and permanent. At Klondike Gold Rush numerous seasonal positions are available each year. These positions may include park ranger, interpreter, trail crew laborer, backcountry ranger, archeologist, biological technician, and other exciting career fields. Seasonal employment typically runs from April-September; however, it depends on the position. Seasonal and permanent positions are both posted on the USA Jobs website at usajobs.gov. Positions can be posted at anytime and are only open for applications for a limited time. Typically most seasonal positions announced in the fall or the early winter and posted for a short period of time.
Current Job Opportunities
Applications for jobs with the National Park Service are accepted via www.usajobs.gov, the federal government's official source for federal job listings and employment opportunity information. The jobs listed below are being drawn from www.usajobs.gov, and clicking on any of them will take you to the detailed announcement for that job on www.usajobs.gov.
Current Local Hire Positions
To apply for a local hire position, come to the park office at 2nd & Broadway (upstairs) during office hours: M-F 8AM-5PM for a complete application packet. For more information, please call Tegan Baldwin: 907-983-9208.
Carpentry Worker, WG-4607-07. Open 02/04/16 - 02/17/16.

Preservationist, WG-4701-09. Open 02/04/16 - 02/17/16.
Painting Worker, WG-4102-07. Open 02/04/16 - 02/17/16.
Maintenance Worker (Trails), WG-4749-05. Open 02/11/16 - 02/24/16.
Laborer (Trails), WG-3502-03. Open 02/11/16 - 02/24/16.
Visitor Services Assistant, GS-0303-05. Open 02/11/16 - 02/24/16.
Other Options
There are lots of ways to work with the National Park Service including: