Guided Tours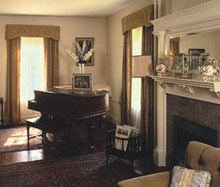 The John Fitzgerald Kennedy National Historic Site is open Wednesday through Sunday, from 9:30am-5:00pm. Visitors may choose to join a guided tour, arrive during one of our two open house periods or take a virtual tour. All tours are free.
Ranger-Led Tours
Join a ranger and explore the birthplace of John Fitzgerald Kennedy. During a 30 minute house tour, your ranger will help you explore the Kennedy's parenting styles, Mrs. Kennedy's work to commemorate her son and the Kennedy's early years in Brookline. Ranger led house tours are offered every half hour from 10:00am-11:30am and 1:00pm-3:30pm.
Self-Guided Tours
Self guided tours are offered from 12pm-1pm and 4pm-5pm. Listening to audio recordings made by the President's mother, Rose Kennedy, you will move at a pace and order that interests you. Self guided audio tour materials are available in English, French, German, Spanish or Japanese, and self guided written materials are available in French, German, Spanish, Japanese, Chinese, Korean, Italian, Hebrew and Polish.
Virtual Tours
When the site is closed, a virtual tour is accessible online here or by dialing 617-992-9172; normal usage rates apply. The virtual tour offers visitors the chance to hear about the home from the perspective of the President's mother, Rose Kennedy and also from a Park Ranger.
Did You Know?

Like many middle-class families in Brookline, the Kennedy's relied upon the many contributions of live-in domestic help. Mary O'Donaghue and Alice Michelan, two first-generation Americans, cooked, cleaned and cared for the children, enabling the family to live their version of the American dream.