Guided Tours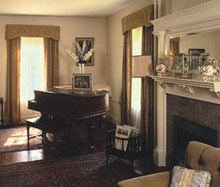 The site is CLOSED for the winter season and will reopen in May 2014. During the winter, guided tours are offered by appointment only Monday through Friday. Please make your reservation request at least two weeks in advance by clicking here or calling the site at 617-566-7937.

Virtual Tours
When the site is closed, a virtual tour is accessible online here or by dialing 617-992-9172; normal usage rates apply. The virtual tour offers visitors the chance to hear about the home from the perspective of the President's mother, Rose Kennedy and also from a Park Ranger.
Did You Know?
In 1914, the Kennedy home was the last house on tree-lined Beals Street. While houses later occupied the fields around the Kennedy's property, many of the trees that lined Beals Street during Jack Kennedy's childhood -including the tree in front of the house- have soared to a height of 75 feet.