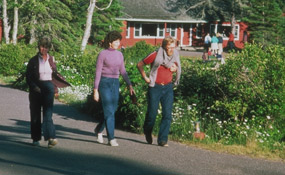 National Park Service
If you only have a few hours to spend on Isle Royale, day hiking is an excellent way to get into the backcountry for solitude and exploration. There are a number of short hikes available, from a 1-mile jaunt near Windigo to a 4-mile loop out to Scoville Point near Rock Harbor. Whichever hike you decide to take, be sure to bring a daypack with water, snacks, raingear, and a first aid kit. Be sure to wear sturdy boots or tennis shoes that are broken in. Some hikes are ranger-led, check the program schedule at the visitor centers.
For tips on hiking safety, click here.

To view a Rock Harbor Area Guide, click here. To explore a Windigo Area Guide, click here.