GPS Users

Using GPS to find your way to Hovenweep is not recommended. Since Hovenweep has 6 different units with numerous paved and dirt roads intesecting each other, GPS will send visitors to unknown locations other than to the park. Using a map is recommended.
Ancient Buildings =
Today's Classrooms
The past is present at Hovenweep, where centuries-old masonry walls show you the life-ways and skills of ancient desert people.
Plan a field trip for your students to visit the monument, or download lesson plans used by our outdoor education experts.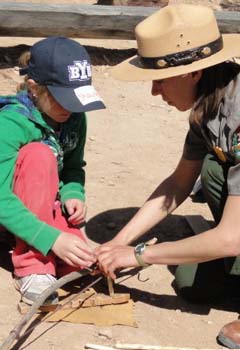 Features
C.C.O.E.

Canyon Country Outdoor Education leads local school groups on field trips throughout the area.

Read More

Connect with Us

Your visit doesn't have to end when you leave, and it can begin before you arrive! Join us on Facebook and become part of our online community.

Read More

Explore Hovenweep

Start your visit at the Square Tower Group, the base camp for Hovenweep. From there, a short drive will take you to the other villages.

Read More