GPS Users

Using GPS to find your way to Hovenweep is not recommended. Since Hovenweep has 6 different units with numerous paved and dirt roads intesecting each other, GPS will send visitors to unknown locations other than to the park. Using a map is recommended.
Places To Go
Hovenweep National Monument protects six prehistoric, Puebloan-era villages spread over a twenty-mile expanse of mesa tops and canyons along the Utah-Colorado border. Multi-storied towers perched on canyon rims and balanced on boulders lead visitors to marvel at the skill and motivation of their builders.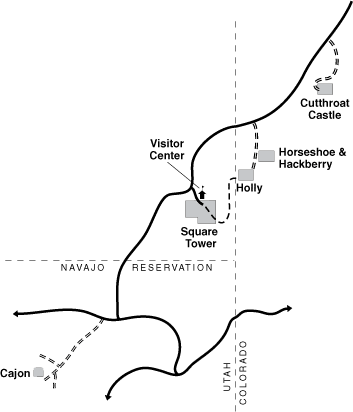 Looking for more?

Guide books, maps and other publications are available in our bookstore.
Did You Know?

The common raven displays abilities to play and problem-solve rare among animals. This member of the crow family is also very vocal, using a variety of sounds for communication. Perhaps because of these qualities, ravens have achieved a certain stature in both European and Native American folklore.