GPS Users

Using GPS to find your way to Hovenweep is not recommended. Since Hovenweep has 6 different units with numerous paved and dirt roads intesecting each other, GPS will send visitors to unknown locations other than to the park. Using a map is recommended.
Places To Go
Hovenweep National Monument protects six prehistoric, Puebloan-era villages spread over a twenty-mile expanse of mesa tops and canyons along the Utah-Colorado border. Multi-storied towers perched on canyon rims and balanced on boulders lead visitors to marvel at the skill and motivation of their builders.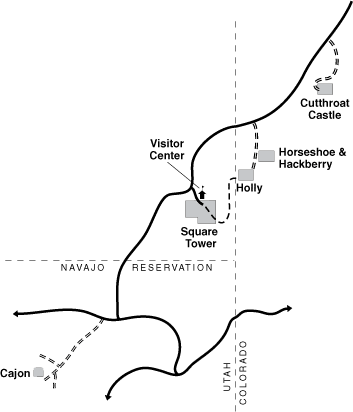 Looking for more?

Guide books, maps and other publications are available in our bookstore.
Did You Know?

The dirt is alive! A living crust called "Biological Soil Crust" covers much of Hovenweep and the surrounding area. Composed of algae, lichens and bacteria, this crust provides a secure foundation for desert plants. Please stay on roads and trails to avoid trampling this important resource.