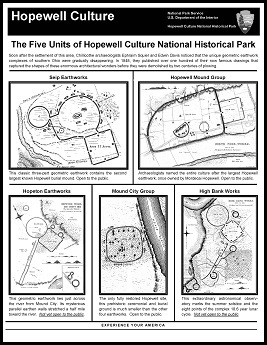 Squier & Davis
All brochures are PDF (Portable Document Format) files and are relatively small. You will need Adobe Reader or some similar reader to view the brochures on this page.
Site Bulletins
Here you will find brief descriptions of the three accessible sites at Hopewell Culture National Historical Park. All site bulletins contain trail maps which show any facilities that may be available and current trails that are open (as of fall 2012).
Click on site name to open site bulletin.
Mound City Group - MCG - (612 kb PDF)
Hopewell Mound Group - HMG - (485 kb PDF)
Seip Earthworks (725 kb PDF)
Driving Maps
Driving map to MCG, HMG & Seip (145 kb PDF)
Driving map to southern Ohio earthwork sites (1.1 MB PDF)