Hopeton Earthworks
This earthwork is located about one mile east of Mound City Group on a terrace east of the Scioto River. The 292-acre site consists of a square enclosure about 900 feet on a side that is joined to a circle with a diameter of about 1,050 feet. Smaller circular structures also join the square at various points, and linear parallel earthworks extend westward toward the river for about 2,100 feet from the northwest corner of the square.
A description from 1848 indicates that the circle and square walls were 50 feet wide at the base. At that time the walls enclosing the square were 12 feet high. Continued cultivation since then has reduced the earthworks to less than 5 feet in height in most places, and the small circles and parallel walls are no longer visible.
Did You Know?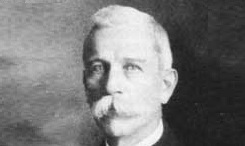 The term "Hopewell" derives from the farm where excavations of an earthwork site (Hopewell Mound Group) occurred in 1891-1892 under the direction of Warren K. Moorehead. The property was owned by a local dry goods merchant and former Confederate Army soldier, Mordecai Cloud Hopewell.