Caution: Slippery Conditions

Due to the expected snow & ice, slick sidewalks and parking lots are likely to exist @ all three sites (Seip Earthworks, Hopewell Mound Group & Mound City). Crews will be working to mitigate any slippery surfaces. Please use caution when visiting. More »
Hopeton Earthworks
This earthwork is located about one mile east of Mound City Group on a terrace east of the Scioto River. The 292-acre site consists of a square enclosure about 900 feet on a side that is joined to a circle with a diameter of about 1,050 feet. Smaller circular structures also join the square at various points, and linear parallel earthworks extend westward toward the river for about 2,100 feet from the northwest corner of the square.
A description from 1848 indicates that the circle and square walls were 50 feet wide at the base. At that time the walls enclosing the square were 12 feet high. Continued cultivation since then has reduced the earthworks to less than 5 feet in height in most places, and the small circles and parallel walls are no longer visible.
Did You Know?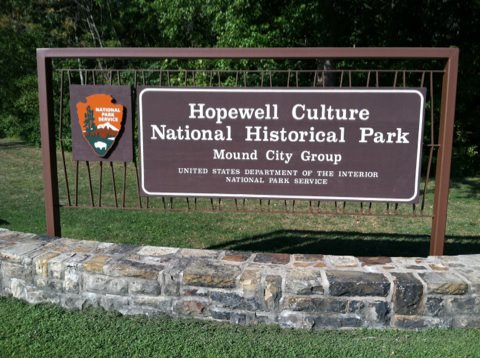 Established on March 2nd, 1923 as Mound City Group National Monument, the park was the first federally created National Park Service site in Ohio. President Warren G. Harding, a native of Ohio, established the national monument using powers granted to him under Section 2 of the 1906 Antiquities Act. The park was eventually re-named Hopewell Culture National Historical Park on May 27th, 1992 after congressional legislation was approved in the House and the Senate. More...