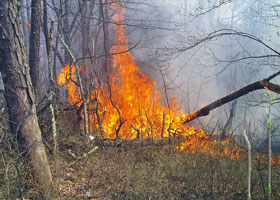 NPS photo.
Our history of fire management stretches back to the early 1900s, when hundreds of thousands of acres were being protected as national parks, forests, and other public lands. During this time, many land managers began a widespread program of fire exclusion. This meant that they put out all fires, believing they were protecting lands, plants, and animals from what they saw as fire's destructive force.
What happened without fire? Across the country, plant and animal communities began to change without the regular fires that had burned across fire-prone landscapes for thousands of years. Fires that did start often burned hotter, faster, and farther than they had before because thick layers of fuel (tree branches, leaves, dry grasses and other flammable debris) had built up on the ground.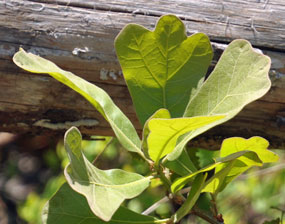 NPS photo.
In Great Smoky Mountains National Park, the policy of fire exclusion reshaped some of our native plant and animal communities. People often think of moss-draped, dripping rock ledges in the Smokies, or rhododendron-shaded streamsides. While we have these, we also have high dry bluffs of pine-oak forest, long sloping oak forests, and wide, flat grasslands that depend on fire for health and regeneration.
From decades without regular fires, we've learned what a useful tool fire can be.
Regular, low-intensity fires protect the landscape from out-of-control burns.
Regular fires keep forests and grasslands open and healthy, with more habitat for native species. They also clear out invasive plants, insects and diseases.
Fire gives many different trees and plants a chance to grow by "resetting" the habitat and regenerating fire-dependent species (such as that Table mountain pine). It also results in a forest of mixed-age classes: some old, towering fire-tolerant trees, and some young seedlings coming up in the light gaps fire creates.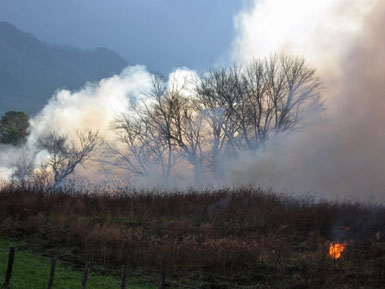 NPS photo by Heath Bailey.
It's no easy task to reintroduce fire to a dry, crowded forest in which fuel has built up for decades. Because managers realized it belonged in many landscapes, however, they began to try. Since the 1980s, the new policy in the National Park Service (and most other federal protected lands) has been to use controlled fires. Also called prescribed fires, controlled fires are just what they sound like: fires that burn under control, when and where we plan.
Actually setting fires is just one part of the entire fire management program. Click on the name of each team to read about what their work in controlling fire in our national parks.
Go to the NPS Profile: Controlled Burns in Little Cataloochee to see these crews in action!
Or return to Dispatches from the Field: Issue 8 main page.