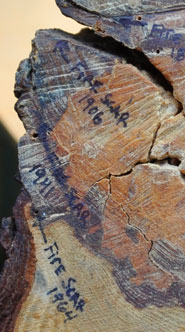 NPS photo.
These rings can tell us stories: their width tells us how much a tree grew each year (wide rings mean lots of growth), their shape and evenness from year to year tells us about disturbance (for example, if a gap opened and they were able to burst into the canopy), and their patterns overall compared with other trees' rings tell us about events such as fires or damaging insects at the landscape level.
In particular, Henri Grissino-Mayer and his research team are interested in fire history. Knowing when, where, and how fire happened in the past helps us plan for—and, in the case of the national park, manage—fires in our forests' future. The study of tree rings to understand the past is called dendrochronology: dendron = tree, chronos = time, logos = the science of. The study of tree rings to understand fire history has an added piece: "pyro," to make it dendropyrochronology. You can read more about these terms and much more about tree ring research at The Ultimate Tree Ring Web Pages.
How do scientists see the rings inside trees? We don't usually cut down living trees just to see inside, although that was pretty common in the past (read about the martyred bristlecone pine). Instead, scientists can take samples of trees in two ways: (1) if a tree has died, they can cut a slice out of the standing snag (trunk) or fallen log, or (2) if the tree is alive, they can extract a narrow core from the tree in a way that doesn't harm it. Tree coring, as the second option is called, is very common. It results in a pencil-shaped section of tree that shows rings from its outer edge, at the bark, to its inner core.
What materials would you need to core a tree? Click here to find out.