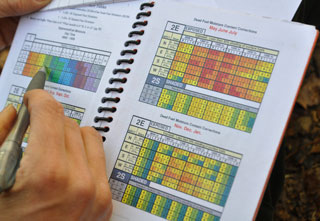 NPS photo.
The amount of humidity in the air determines "probability of ignition" (PIG for short), which is the likelihood that a spark will ignite on contact with fuel. The fire team looks for a PIG that's not so high that fire could get out of control and not too low that nothing will burn. The ideal is a 30-50% probability of ignition.
On this day, the PIG was getting too high for comfort, and the relative humidity had dropped further still. Humidity reaches its lowest point in the late afternoon on clear days, and it had dropped steadily through the morning to 34 percent, very near the cutoff of 30 percent. Each fire has a low-humidity level; if it drops below this, it's "out of prescription," or out of the range that the fire plan says is safe for the particular forest type, slope, and area. Low relative humidity can lead to problems controlling how hot and far the fire burns. If the trend of falling humidity continued, we would be out of prescription in just a couple hours.
The burn boss turned to the crew, who had been watching him intently, and shook his head. Everyone knew what this meant but stood silently waiting for the verdict. "It's a no go," the boss said. He debriefed the crew, explaining the dropping humidity made it too hot, dry, and dangerous to burn today. From here, the crew would wind up the hoses, the burn boss would go back and draft a report, and the prepared site would wait until a better day for fire.
Go to page 2: Eventual burn to read what happened.