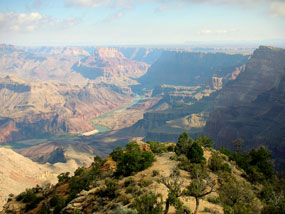 NPS/Marge Ullmann
Desert View
(Elevation: 7438 feet / 2267 meters)
A short ¼-mile (½-km) walk leads from the parking area, past historic buildings, to the rim. From Desert View Point you can see the Colorado River make a big bend to the west. Climb the stairs to the top of the
watchtower
for outstanding views of the canyon.
Services include the Visitor Center/ bookstore, (now in the historic Watchtower building) the trading post and snack bar, the general store, a service station, campground, and restrooms. The former Visitor Center building, on the edge of the parking area, is closed, but is scheduled to open in the near future as an American Indian Cultural Center.
Download the
Desert View Brochure
.
(1 MB pdf file)