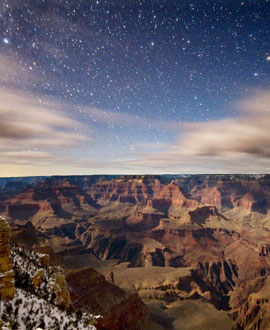 Tyler Nordgren, University of Redlands.
Star Party June 13–20, 2015
"Telescopes are magical: They convert light into wonder."
- Phil Plait
Due to its dark skies and clean air, Grand Canyon offers one of the best night sky observing sites in the United States.
For eight days in June, park visitors explore the wonders of the night sky on Grand Canyon National Park's South Rim with the Tucson Amateur Astronomy Association and on the North Rim with the Saguaro Astronomy Club of Phoenix.
Amateur astronomers from across the country volunteer their expertise and offer free nightly astronomy programs and telescope viewing.
Visitors view the planet Saturn along with star clusters, galaxies, and nebulae by night; and the sun, Venus, or Mercury by day or just after sundown.
Experience spectacular views of the universe!
Dress warmly, temperatures drop quickly after sunset—even during summer months.